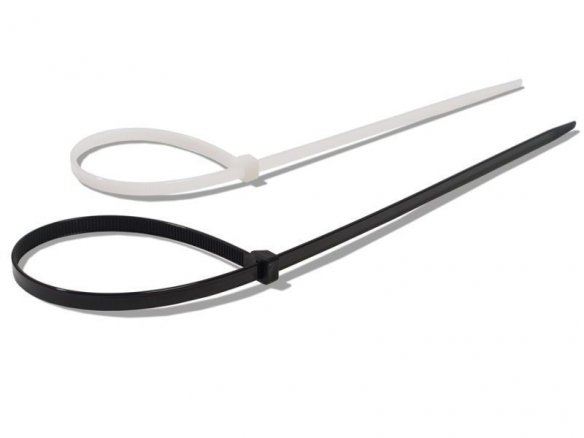 Polyamide (PA) 6.6, inner teeth, not removable, temperature resistant from -40 °C to +80 °C (short term up to 160 °C), good resistance against organic solvents, oils and grease; self-extinguishing per UL94 V2 flammability rating, certified in accordance with military specifications MS-3367 and MIL-S-23190E; given dimensions: length x width, maximum cable bundle diameter, tensile strength
This cable was originally developed for use in the electrical field for bundling together cables or for attaching complete wiring harnesses one to the other or simply for attaching them to some other object. They have since found there way into common usage in many other areas such as provisional mounting in the construction industry, for the temporary attaching of scaffolding nets and tarps, for attaching signs and even trash cans to lampposts, as a packaging aid or as quick handcuffs in police work (don't try this at home!). As an inexpensive and universally applicable tie element, its uses are only limited by your imagination: this can include affixing cables on a bicycle frame or attaching plants on a trellis or the umbrella to the balcony railing.
The standard cable ties can be employed without the use of tools; once engaged at the teeth the tie can only be pulled tighter and cannot be opened again. Removal must then be done by cutting them with a pliers or a scissors.
For outdoor use we recommend the black cable ties because the carbon black used in their colouration produces a higher degree of UV stability and therefore a longer service life outdoors.
The ties are made out of the hygroscopic plastic polyamide. This means that the material can absorb water and release it again. In order to assure the continued quality level of these cable ties it is important that they be stored in the package where the air is not too dry so as to avoid their becoming brittle.
Standard cable ties, 610 x 9.0 mm, ø 185 mm, 80 kg, natural, 100 pieces