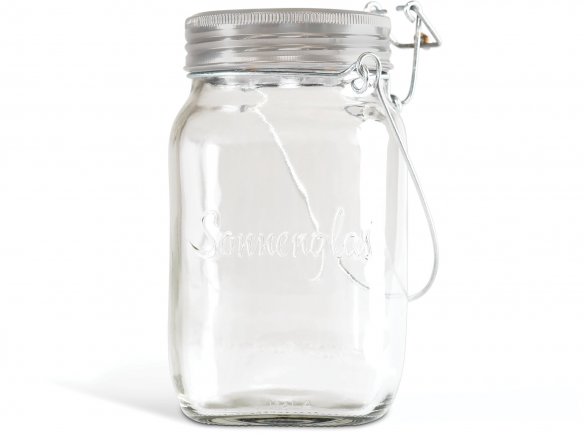 Original SONNENGLAS ? Fair trade solar lantern from South Africa
Magnetic on/off switch
with USB charging function for the winter
100% real recycled glass
individually designed
4 LEDs with high luminosity
Watertight
Material

recycled glass

Light duration

6 - 9 h

Light output

19 lm

Cool temperature

4000 K

Lifespan

25,000 h

Nominal output

120 mW

Solar module output

3 V, 135 mA

Li-ion battery output

3,7 V, 600 mAh

Ingress protection

IP67
The Sonnenglas stores the energy from the sun during the daytime ....its LEDs then light up in the nighttime and produce a very pleasant atmosphere!
The Sonnenglas device is made by hand in Johannesburg in a "manufactory" (denoting a combination of machine and hand work) and provide 60 jobs for previously unskilled workers.
The principle behind this environmentally friendly solar lamp is as simple as it is ingenious: it stores the sun´s energy during the day and releases it in the form of light at night.
The built-in battery is charged by means of solar cells in the lid. The 4 LED lightbulbs with which it is equipped give off a soft but still bright and non-glaring light for 6 to 9 hours.
In winter when there is not enough sunlight the battery can be charged by means of its micro-USB port per cable (not included) to the mains or to your computer.
The Sonnenglas is great for use as a garden lantern, walkway lighting, for barbeque parties, when camping, for decorations in trees or for lighting any nightime outdoor activities.
Sonnenglas solar light in preserves jar, Ø 115 mm, h = 180 mm, incl. USB-connector