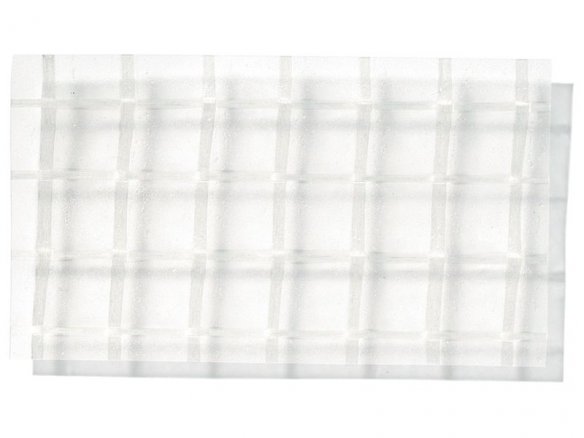 PVC coated polyester mesh fabric, 1 ply (mw = 10 mm), semi-gloss, translucent
This very sturdy latticed film is actually conceived as a tarpaulin. The fact that it looks great too means that you can also use it as a shower curtain, room divider or as the base material for making bags or backpacks.
This film can be cut with a shears or blade and can be glued using soft-PVC. Any holes made for hanging curtains or for stretching/spanning purposes should be reinforced with hollow rivets. Seams will hold a lot better if they are sewn with a strong plastic fibre thread and reinforced with glue. A presser foot glides best over the moderately sticky PVC if it is made from Teflon (unfortunately, a Teflon presser foot is not exactly cheap!). It is less expensive to use a TISSUE PAPER as an underlay or to put some sewing machine oil (SILICONE OIL) on the area to be sewn to make it slippery.
Soft-PVC lattice-film, colourless, th = ca. 0.4 mm, w = 2040 mm
Note
Please note that no exchange is possible in the case of products cut from rolls and the minimum order for products sold from rolls is 0.5 running metre.