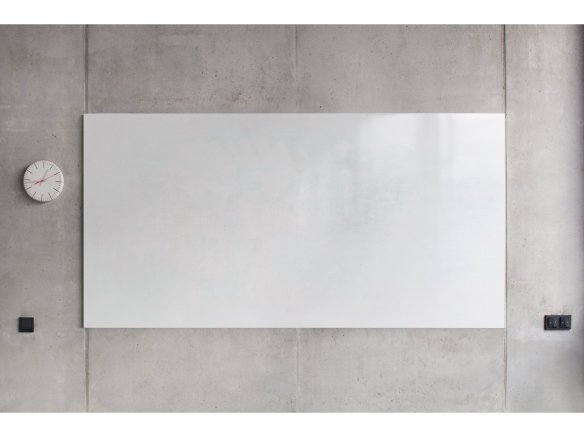 size of useable space

550 x 750 mm, 750 x 1150 mm, or 1000 x 1500

Application

portrait and landscape orientation
These Skin Boards from Rocada are distinguished from other whiteboards by the completely reductionist nature of their design. They are frameless and can be mounted on a wall with magnets so that the mounting cannot be seen. This allows any number of whiteboards to be mounted next to one another such that a single, unbroken, surface is created. Even boards with different surfaces can be mounted directly next to one another so that, for instance, a blackboard can be placed directly next to a whiteboard for purposes of emphasis or variety. Magnets and a set of screws with wall plugs are included in the product packaging.
The mountable support rails as well can, if necessary, be mounted such that they are not visible so that there will be no unsightly holes to ruin the elegant appearance of the whiteboard if you are not going to mount the rail permanently.
The laquered whiteboards are coated with a powder varnish. The surface cannot actually compare in hardness to an enamal surface but all commercially available whiteboard markers can be used on it without any problem. Anything written on the lacquered surface can be dry-wiped off. After intense use, however, we recommend that you wash the board with a cloth moistened with one of the special, alcohol-based whiteboard cleaners available on the market (do not use household cleaners or solvents like benzine, acetone or turpentine!).
Based on our vast experience we have come up with a few tips for whiteboard use:
Always thoroughly clean the board after use: it is better to make a photo of the board and its contents than to just leave them on it for an extended time. Through the long drying process (and also possible photochemical reactions) it becomes increasingly difficult to wipe the board clean without leaving behind shadows ("ghost images") that are difficult to get rid of.
If possible, it is best not to use one kind of marker to write over or through another type of marker. Writing over sketches or texts that are already on the board can, because of the mixing of different colours or marker types, lead to residues on the whiteboard that are difficult to remove.
Only use markers that are EXPLICITLY designed for use on whiteboards. Other "non-permanent markers" should not be used.
When using a whiteboard wiper for dry cleaning you should change the cleaning felt in a timely manner because otherwise the wiper will do more smearing than it will cleaning! In addition, even when using such a board wiper properly, you should still regularly clean your board with a wet cloth.
Do not use a micro-fibre cloth for cleaning purposes. Micro-fibre cloth is abrasive and leaves very fine (invisible) scratches on the surface. When you do your next colour application the colour pigments will settle in these scratches and are then extremely difficult to remove from there!
Skin whiteboard
3 Variants
Note
Please note that we can only send the larger size 1000 x 1500 per a freight forwarding service, which means additional cost will be incurred. There are additionally higher handling charges.

Please also note: the given dimensions can be somewhat inaccurate because the manufacturer rounds off the number placed on a package. So, boards marked 800 x 1200 mm actually measure 750 x 1150 mm.
Accessories and Related Products