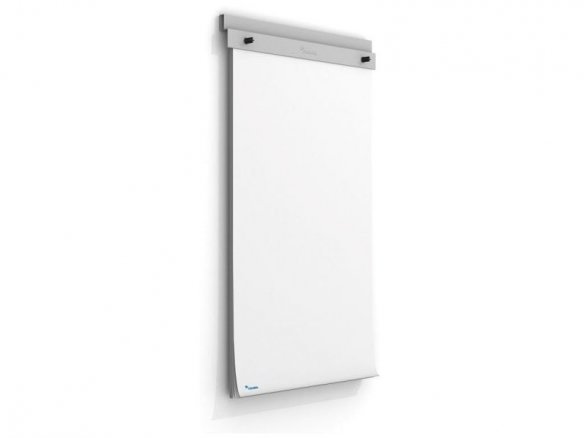 630 mm wide metal strip with overhanging edge for hanging purposes (inner dimension: 13 mm), plastic plugs, standard flipchart pad, universal hole pattern with 6 holes, micro-perforationed (670 x 990 mm, 20 sheets)
If you want to be able to write on flipchart paper in conjunction with whiteboards and blackboards, this integrable Skin flipchart pad holder is just the thing you need (those are the ones with the double hole pattern with 6 holes each on the upper edge).
The holder is made up of two steel strips that can be stuck together to form a clamp for the writing pad. Once the pad is inserted therein, the holder can then be hung on the top edge of a Skin whiteboard. The overhanging edge used for the hanging has an inner width measurement of 13 mm, which means that the flipchart can be hung on any object that has a thickness of 13 mm maximum.
LUMOCOLOR FLIPCHART MARKERs are the best choice for writing on flipchart paper because it has a strong and conspicuous line but still won't bleed through the paper onto the ones just underneath.
Skin flipchart pad holder, 650 x 900 mm