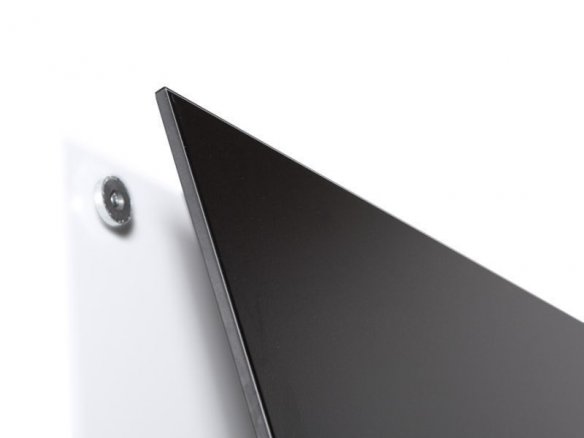 Vertical or horizontal mounting
Magnetic
Material

Steel, blackboard paint surface, magnetic

Size of usable space

750 mm x 1.150 mm or 1.000 mm x 1.500 mm, th = 10 mm

Supplies

Mounting set and drilling template for attaching to a wall; optional light grey rail tray
The Skin Chalkboard is a chalkboard made of steel with a powder-coated black surface. You can write and paint on it with conventional blackboard chalk. The chalkboards are magnetic - like the Skin Whiteboards. They can be combined with each other and can be mounted vertically or horizontally as well as in a 90° corner. Simple and precise installation with magnetic holders enables a wide range of applications. 
Please note that the chalkboard is not suitable for so-called chalk markers or pens as they cannot be removed without leaving any residue. Conventional blackboard chalk can be removed with a damp cloth.
Skin chalkboard
2 Variants
800 mm x 1200 mm
1000 mm x 1500 mm
Note
Please note that we can only send the larger size 1000 x 1500 per a freight forwarding service, which means additional cost will be incurred. There are additionally higher handling charges.

Please also note: the given dimensions can be somewhat inaccurate because the manufacturer rounds off the number placed on a package. So, boards marked 800 x 1200 mm actually measure 750 x 1150 mm.