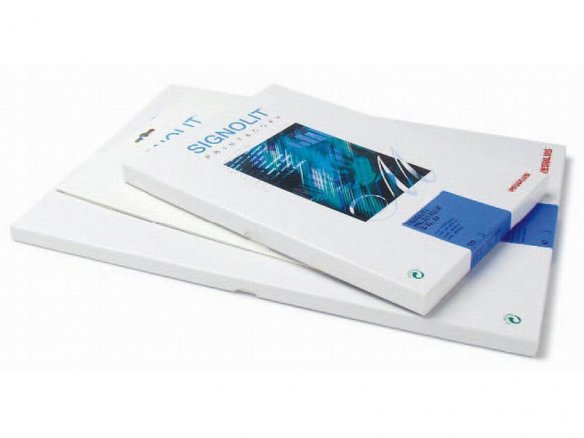 glossy, polyester film, th = 0.07 mm, heat stabilized, one side self-adhesive, silicone cover paper (no slit), tear resistant and waterproof, lightfast, for colour copiers and colour laser printers (SW as well)
This self-adhesive laser/copier film is not only suitable for use on all black/white machines but was especially designed to satisfy the requirements of the newest colour copiers and colour laser printers as well. The XCL coating, which was specially developed for colour machines, provides good toner retention. A relatively thick cover paper keeps the film very flat and hinders paper jamming. The glue, too, was specially developed for high temperatures and will not leak out on the sides when exposed to intense heat during copying.
The SC 46 self-adhesive film is suitable for many uses in advertising and design work. For example, it is great for making small production amounts of stickers or signs for indoor and outdoor use.
The copier and laser print films from Folex and Regulus are suitable for use with all laser printers and copiers that use normal paper. Only older copiers will require an additional sensor stripe with photo cell control. They have a special coating on both sides and are anti-static treated with the result that they can be used in stacks without having to worry about which side is correct.
When putting together our product range of laser and copier films, we tested those from many manufacturers and then chose from each film type only the ones whose results were the best on two laser printers (Apple) and one copier (Canon). Our tests forced us to accept that sharpness at the border of large, black areas printed by laser on glossy films can often leave a lot to be desired (cloudy). On the matte, reflection-free films, on the other hand, excellent results are achieved on all types of machines.
Attributes: The coating of the copier and laser printer films provides the optimal attributes for producing work on practically every laser printer and copier. They are not suitable for use on colour copiers or colour laser printers with the exception of the Signolit SC 46. The matte films are reflection-free and can be written on.
The self-adhesive films do not, as a rule, require moisture for gluing. In order to avoid making bubbles during gluing work on larger areas, they can be wet glued on surfaces that are resistant to moisture (e.g. Plexiglas; see also at X-FILM COLOURED ADHESIVE FILMS). Although they are not really designed for long term use outdoors, these films can short to medium term withstand being rained on without losing their toner or having the film detach.
Signolit adhesive films can be well used in architectural model making in order, for example, to abstractly represent structures made of glass, stone or other materials.