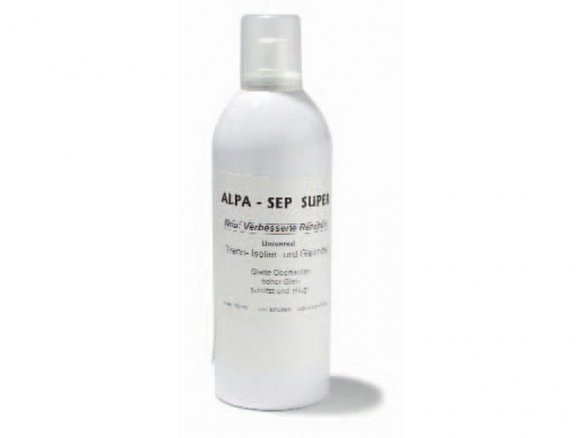 modern universal release-, insulation- and lubrication agent, contains silicone, can be painted over, colourless when dry, does not built layers (polishing not necessary), airing evaporation time is 5 - 10 minutes, long holding time, consumes very little (spray only a thin layer), shelf life with proper storage (18 - 25 °C) is at least 6 months, hazard warnings: Xn harmful, F highly flammable
Sep Super is a release agent for polyurethane, polyester and epoxy resins. In addition, it can be well used when working with thermoplastics (must definitely be used when filling moulds made from PE). The can of spray must be shaken well before use because the contents tend towards sedimentation. The master form or the mould should be evenly sprayed with a thin layer of release agent and allowed to air out for 5 to 10 minutes. During this time, the agent diffuses into the surface without building up a detectable film and, through this diffusion, an excellent dimensional accuracy is achieved.
Because Sep Super only contains a small amount of silicone, it is OK to paint over it. This spray should not be confused with standard commercial silicone sprays. Sep Super is distinguished by its high concentration of active ingredients and by its excellent adherence with a long holding time even on metal surfaces.
Sep Super release agent and insulation spray 400 ml in pump spray bottle (CFC-free)
Note
Release agents are inflammable and hazardous to your health and the environment. Please take note of the dangers and the safety information on the package and the information titled "Safety at the Workplace" found under "Information about Release Agents".