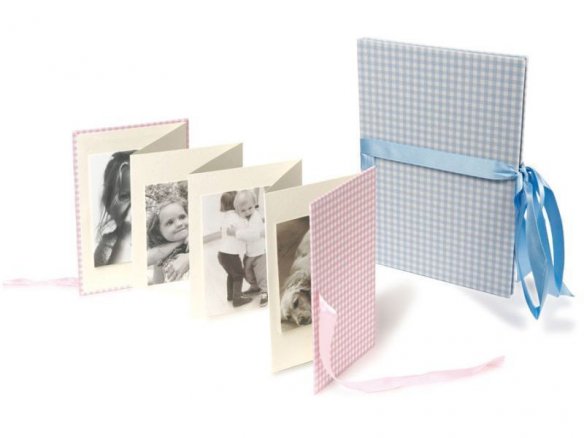 cardboard cover laminated with white/coloured patterned cloth, 14 flat areas of cream coloured photo mounting board (300 g/m²), portrait (tall) format, for gluing photographs, coloured ribbed ribbon fastener, given dimensions are approximate
These photo concertina folders can be pulled apart like an accordion and will then stand on their own. The cream coloured photo mounting board can not only be used to for mounting photographs but also pages of text or drawings as well. When laid flat, this concertina folder can be secured by a coloured ribbon. The cloth cover of the album has Vichy chequered patterns, which are a fairly minimalistic type of pattern that was made famous in the 1950s by Brigitte Bardot.
Vichy concertina folders are perfect for giving current photographs of your children to your grandparents or friends – the pink coloured ones for the girls and the light blue ones for the boys, or maybe the other way around? You decide.
Semikolon photo concertina folder, linen cover
Note
Semikolon photo folders are only available in our store.