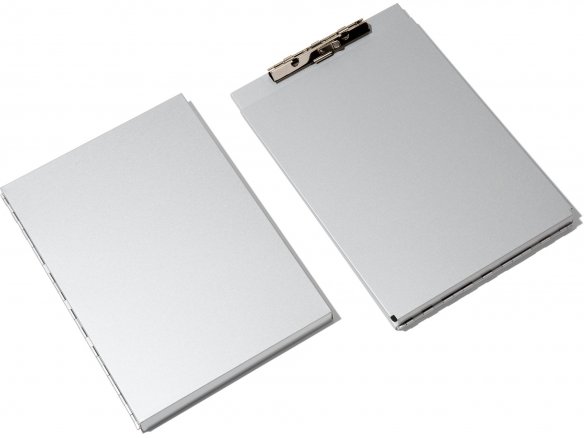 form holder, antimicrobial coating, writing surface hinged for opening (protection against tracing through to the rest of the stack), strong clamping mechanism with "teeth", hinged storage compartment for completed forms, all mechanical parts nickel-plated
This clipboard from the American manufacturer Saunders can´t help but impress because of its classic design, excellent workmanship and functionality. The A(ction)-Holder is proof that the "clipboard people" at Saunders really know what they are doing when it comes to filling out forms and paper while in a standing position. The sturdy mechanism is easy to open with the fold-out lever and it can hold in its teeth a stack of paper up to 12 mm thick.
In order to avoid write-through on the forms stacked under it, the hinged writing plate can be opened towards you or, on another version of this clipboard, to the side and a new form brought into place on top of it. The filled-out form is then stored in the approximately 10 mm thick storage compartment which is hidden beneath the two plates (one with the clip holding the forms, the other being the writing plate) and can be reached by opening both of them in the same manner.
Saunders A-Holder storage clipboard, painted grey
2 Variants