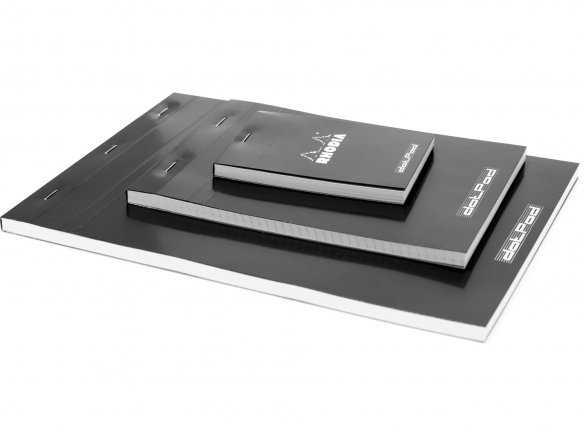 Paper

bright white, satin-finish, wood-free, 80 g/m², PEFC certified

Binding

stapled, no margin, no holes, 80 micro-perforated sheets

Cover

cardboard, black, light glossiness

Lineation

light violet, dot grid with 5 mm spacing
Rhodia notebooks and sketchbooks have been around for decades. What is new, however, is the dots lineation: the paper is printed with very light violet-coloured dots that are spaced 5 millimeters apart. This produces a very subtle lineation that can serve equally well as a guide for making sketches as well as for just plain writing. The dots are easier to ignore than would be the case with the usual printed checkered grid paper - which means that the user is wonderfully served by this successful compromise between the freedom of a blank page and the support suppled by grid lined paper. Note: the dots are invisible when scanned or copied.
Your writing, note-taking or sketching is done on a snow-white, satin-finished (i.e. thoroughly sized), smooth vellum paper, one that has already become the "go-to" paper for people who write or sketch a great deal. The pads are bound at the top and "sangrif" - which means that the staples are worked into the cardboard from the back and therefore cannot be seen from the front and are also not dangerous.
Rhodia dotPad sketchbook, black
3 Variants
Accessories and Related Products