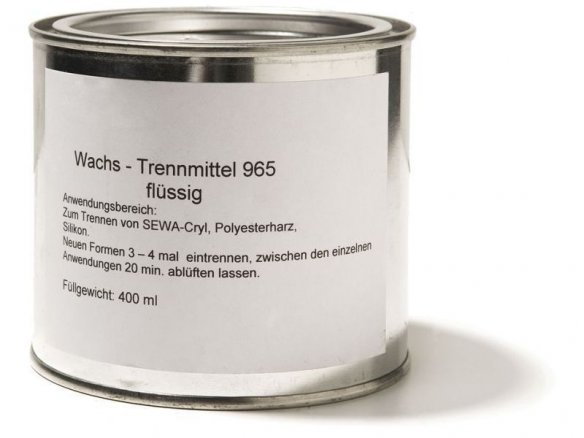 low viscosity wax dispersion, silicone-free, halogen-free, milky colour when dry, ready-to-use for spraying or brushing, air evaporation time is 30 minutes, polishes up well, consumes approx. 70 g per m² when brushed and 30 g when sprayed, shelf life when properly stored (18 - 25 °C) is at least 6 months
The attributes and uses of the low viscosity release agent 965 are about the same as those of release agent 815 Quick. Despite this similarity, however, we added this agent to our product line because it is available in a smaller size.
Release agent 965, low viscosity, 340 g in tin container
Note
Release agents are inflammable and hazardous to your health and the environment. Please take note of the dangers and the safety information on the package and the information titled "Safety at the Workplace" found under "Information about Release Agents".