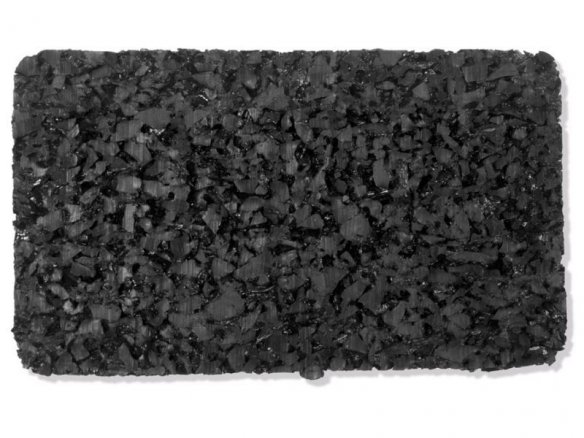 PUR bonded rubber granules, smooth/smooth, PUR-gebundenes Gummigranulat, glatt/glatt, ca. 7,3 kg/m³, weather resistant, ca. 48 Sh-A, temperature resistant from –40 to +300 °C (short term), construction material class B2 (normal inflammability)
Regupol resist is a high-quality mat made out of bonded rubber granules usually found serving as a protective layer under the gravel on flat roofs or under ground covering greenery. It is not only highly resistant to weathering as well as sound-deadening but also elastic, resistant to acids and lyes (and termites, fungus and microbes, etc.), moisture permeable, and resistant to compression. Please note that its elongation at break is limited: because it is made from bonded granules it does tend to form creases easily. However, the advantage of its being so constituted can be found in other areas: in comparison to a solid rubber mat, a very thick mat has been created using less actual material (and thereby less weight) and it is accordingly less expensive.
We look at these rectangular cut-outs of Regupol resist rubber as practical working mats or good looking decorative mats that can be used for insulation and damping purposes – for use under the washing machine, for example, or under potted plants and work tables, etc. You can probably think of any number of other creative possibilities yourself – just scratch your head and see what comes out!
Regupol resist rubber mat, black, 10 x 600 x 600 mm