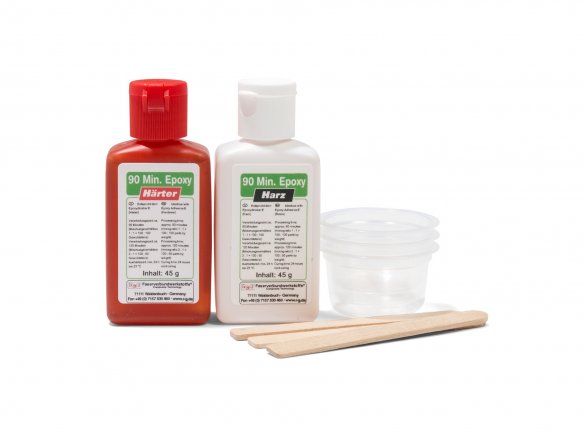 two component epoxy resin adhesive for metal (especially aluminium), dark amber colour, working life: depending on the mixture ratio up to 120 minutes, mixture ratios from 100:50 to 100:100, temperature resistant from -50 bis +60 °C, hazard warnings: Xi irritant, N dangerous for the environment
Like most epoxy adhesives, the R & G brand is especially good for gluing metal. This adhesive is hard and tough when set and will not break away even in the case of the metal being heated. Joints made with metal epoxy can withstand temperatures up to 100 °C, are resistant to water, oil, benzene and many chemicals and can be drilled or sanded when cured.
If this adhesive is stored under +15 °C both the resin and the hardener can crystallize. This crystallization must be gotten rid of before the adhesive is used by means of warming it in hot water (maximum 50 °C) and subsequently shaking it. This product should only be used if it is completely transparent!
By virtue of a special component in the hardener, this metal epoxy can be used with different mixing ratios (resin to hardener: 100:100 up to 100:50). Different levels of strength are attained depending on the mixing ratio; the highest strength is achieved with a ratio of 100:50. When mixed in this ratio, the R & G metal epoxy can be worked with for a period up to about 2 hours; higher percentages of hardener shorten the working life.