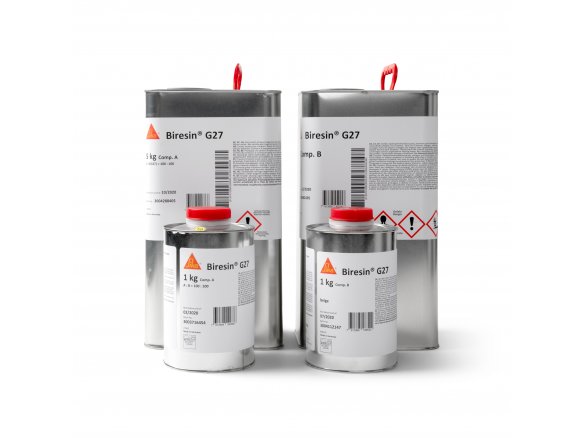 material

2 component quick casting resin

End state

cures to an opaque beige colour, density (at room temperature) approx. 1.1 g/cm³

Working life

approx. 2 minutes (for 200 g)

Hazard warnings

resin: Xi irritant, hardener: Xn harmful
G27 is a PUR quick casting resin with a very fine texture and especially high flow quality. It is therefore excellent for the reproduction of very fine surface textures and intricate moulded pieces. Even in the case of thin walled pieces it reacts very quickly.
Because of its low viscosity, it is easy to remove the air from this resin and the subsequent pour presents no problems. G27 has a very short working life and can be very quickly de-moulded - namely, as soon as 20 to 30 minutes – and has very little shrinkage. In addition, it can be coloured very nicely, takes fillers and, after the hardening and the removal of the release agent, can be painted with excellent results. When cured, the G27 lends itself very well to mechanical workability.
PUR G27 quick casting resin
4 Variants
Note
Most polyurethane casting resins are inflammable and hazardous to your health and the environment. For this reason, they are not allowed to be sold to private consumers. You will therefore be required to attach a copy of your business license or proof of your status as a professional when ordering this product. Please take note of the dangers and the safety information on the package and the information titled "Safety at the Workplace" found under "Polyurethane" or, alternatively, "Casting Resins".

The product consists of two components (resin and curing agent)!

Please note that we can only ship large quantities of this article per forwarding agency which means that there are higher shipping and handling costs.

Accessories and Related Products