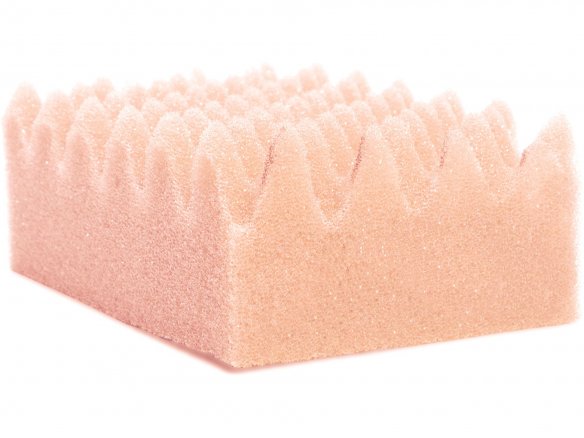 open-cell, height of cones and base 20/20; certified as conforming to Ökotex Standard 100 (human ecological quality)
Convoluted foam, which is also called "egg crate" foam, is often used as padding for sensitive devices during transport. This is because it has the advantage over other foams that its unique bumpy pattern is better able to conform to the shape of the object to be protected without the foam having to be cut into a customized shape: the individual cones have a free space into which they can deform – a characteristic missing with flat foams.
An explanation of the designations used above: The ?base" refers to the layer of the foam which is not convoluted – for example, if a 50 mm convoluted foam has a base that is 25 mm, the cones themselves will then be 25 mm in height.
This foam is also very often used to improve the acoustics of a room; to be more exact, it is used to reduce the echo (reflex sound) of a wall; this is referred to as a open-pore absorber. In general, its effectiveness is of a particularly high degree in absorbing the higher frequencies. In order to avoid overdoing the baffling of a room, the foam should only be placed at strategically chosen locations – this is where the real art of acoustics begins and we will just quietly defer to those in the know!
There is not any real difference between egg crate foam, with its cones, and pyramid foam, with its pyramids, vis-à-vis its acoustical damping because the subtle difference in the geometry does not matter in terms of their performance. It should be noted that convoluted foam (as well as, by the way, pyramid foam), is not suitable for acoustically insulating a room (no sound) because it is too permeable for such a purpose. For that purpose, a heavy type foam should be used; CHIP FOAM, for example, or special acoustic panels with multiple ply constructions, whereby each ply possesses different mechanical attributes. At this time we do not carry the latter, but may sometime in the future.
PU convoluted foam 20/20, 50 x 400 x 600 mm