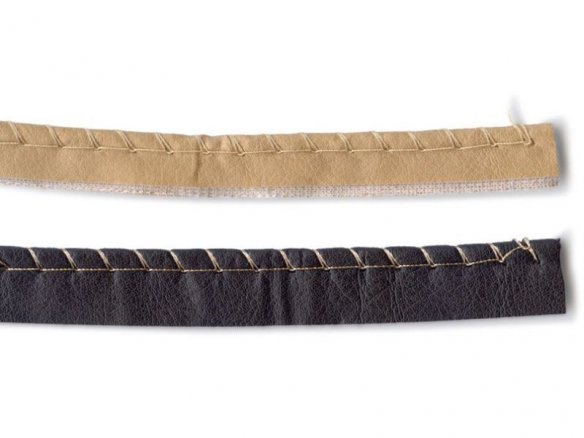 65% polyamide, 35% polyurethane, machine washable to 30 °C, do not put in dryer, do not iron
Piping is used to accentuate a seam line or an edge – to reinforce it and to decorate it. In the case of especially elastic textiles, our PIPING TAPE, MONOCHROME, ELASTIC should be used because it is much more flexible and elastic than this imitation leather version. The "bulge" on this tape is – perhaps in compensation – much more voluminous and of "leathery" even though it is in fact polymer based.
You can create your own piping tape – which is sometimes referred to as "tubing" or seaming tape – by laying a piece of cord lengthwise in the fold of a piece of material (cut diagonally to the fibre grain – see TAPE MAKER/BIAS BINDING MAKER) and sewing it into place.
Prym imitation leather piping strip, non-elastic, w = 3.0/12 mm, beige (918610)