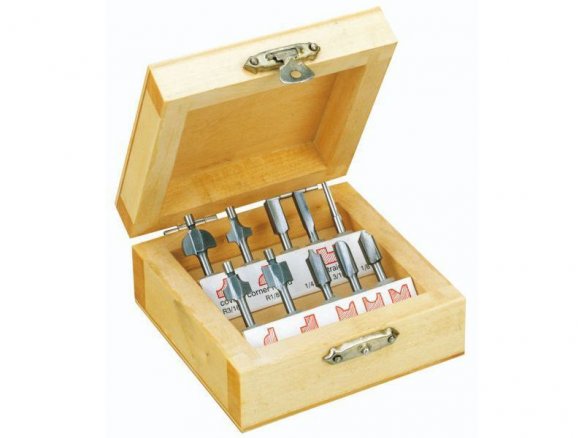 Wear-resistant cutters made of carbide metal, different types, shafts are ø 3.2 mm
These cutters are suitable for routing hard wood, fibreboard and plastic. Clean relief grinding and high stability provide good work results. The various types allow you to make slots, sections, radii and other profiles as well as picture frames. The cutters come neatly packed in a wooden box including schematic drawings of their possible uses.
Slot cutter ø 3.2 mm
Slot cutter ø 5.0 mm
Slot cutter ø 6.5 mm
Rounding over cutter ø 6.4 mm
V-slot cutter ø 6.5 mm
Combi cutter 6.5/2.5 mm
Core box bit R 3.2 mm
Rebating cutter 6.4 mm
Edge cutter with pin 5.0 mm
Half round cutter ø 13 mm
Proxxon wood router cutter set, 10 pieces (29020)
Note
The wood router cutters offered here should only be used with working devices that have a safety mechanism - for example, the MICRO router MOF.