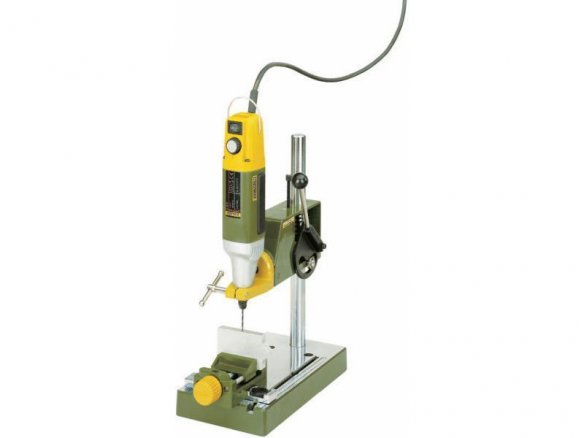 surface milled table 120 x 220 mm, machined feeds and fittings, headstock is of die-cast aluminium (throat capacity 140 mm), chromed steel column (280 x 20 mm), depth stop, chromed feed lever with return spring, cutting stroke 30 mm, 20 mm drill/mill collar fits all Micromot system components and rotates up to 90° (with scale), holes for fixing base to worktop are provided
Like many Proxxon tools, the drill stand MB 140/S is made of die-cast aluminium, a material that is preferred by the Proxxon technicians because of its sturdiness and stability when being machined.
We recommend the purchase of the drill stand for work being done with Proxxon drilling and grinding machines. The construction of this tool displays an attention to relevant details: a sensitive feed is the result of a feed lever employing a disc drive and ball-bearing system; T-bars allow simple height adjustment as well as the fixing of the drill in the bore fitting. The drill /mill collar tilts through 90° in both directions. Threaded holes provide the means for attaching the MICRO compound table KT 70 to the drilling table. Pre-drilled holes on the drill stand enable its base to be screwed onto a worktop.
Proxxon drill stand Micromot MB 140/S, incl. solid fence w. scale (locking-type) (28606)