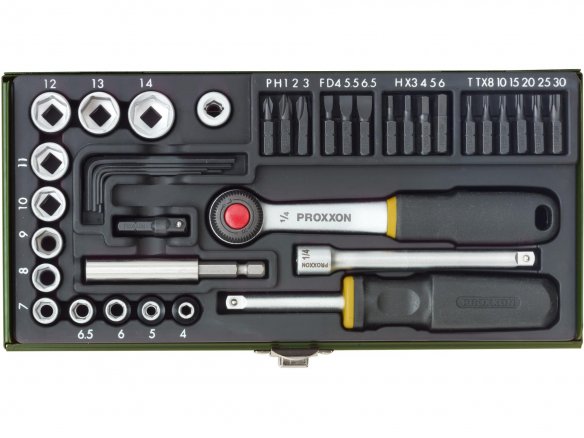 Reversible ratchet

1/4"

1/4 inch hex socket set

4/5/6/6,5/7/8/9/10/11/12/13/14 mm

1/4 inch extension

100 mm

1/4 inch machine adapter

30 mm

1/4 inch bit adapter

75 mm

Bits for slotted screws

4,5/5,5/6,5 mm

Bits for phillips screws

1/2/3

Bits for allen screws

3/4/5/6 mm

Bits for torx screws

8/10/15/20/25/30

Angled allen keys

1,25/1,5/2,0/2,5/3,0 mm

Packaging

sturdy steel box (powder coated)

Moulded receptacle insert

high-strength polypropylene: oil and acid resistant

Labelling

durable marking of all socket sizes
The most important piece of this set? The ratchet wrench! - which is forged from a single piece of CrV steel. It is hardened and has perfect toothing: several of the 52 teeth are engaged at the same time and thereby produce a great deal of torque. There is a quick release mechanism that releases the tool attachments (sockets) by means of a push-button.
Phillips head (marking:PH)
Posidrive bit (cross-slot with small toothing between the cross arms; marking:PZ)
Slot head screw bit (marking:FL)
Hex bit for inbus screws
Torx screw bit in the shape of a six-point star (marking: TX)