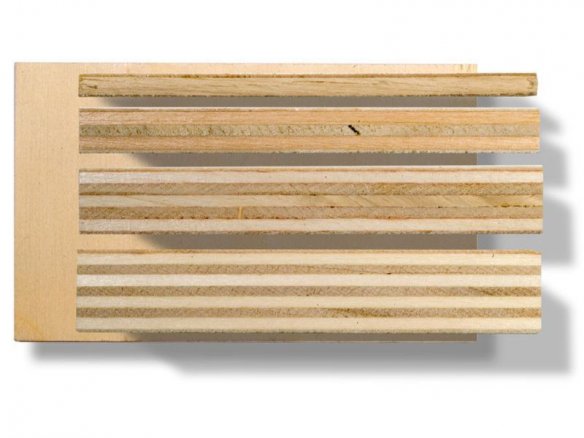 IF20 (bonding agent not waterproof), Grade B/BB, thickness tolerance ± 0,5 mm, in the large size version the grain runs parallel to the first given dimension (lengthwise)
Custom cutting available. Choose your desired size!
For more information about our custom cutting service, please visit Modulor Services.
Poplar plywood is a relatively soft plywood whose weight is about one third as much as BIRCH PLYWOOD. Like all veneer plywoods (in contrast to lumber-cored plywood or laminated plywood), this one consists of veneer layers that are glued at right angles to adjacent layers; this results in better flatness characteristics as compared to totally natural wood panels.
Poplar wood has less marking than birch plywood and has, as a result, a less busy and uniform surface appearance. Because of the nature of its bonding agent, it should only be used indoors; it is not suitable for use in moisture prone areas. The facing plies are Grade B or, alternatively, Grade BB, which means that they can have knots or other "imperfections".
Poplar plywood custom cutting
3 Variants
10,00 mm
15,00 mm
18,00 mm
Note
Absolute flatness cannot be guaranteed, especially in the case of the thinner panels. An unavoidable result of the production process it that the widths of these panels can indeed vary from board to board.