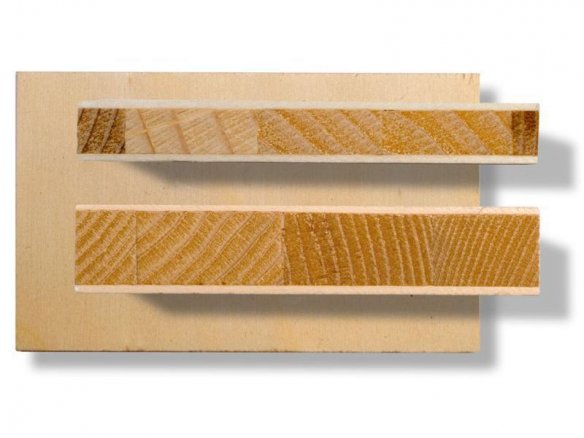 Centre position

made from coniferous wood, 20 to 35 mm wide strips

Strength

19 mm

Grain direction

grain runs parallel to the first given dimension (crosswise)

Use

primarily used in furniture making and interior furnishing
Custom cutting available. Choose your desired size!
For more information about our custom cutting service, please visit Modulor Services.
Blockboards with cores made of poplar and cover layers made of tropical woods like Okumé, which are sold under the name GABUN, have fallen out of favour. We have decided, however, to replace that type of blockboard with one of the same quality made from a native wood, namely, with this blockboard with poplar surface layers and a core made of spruce or pine.
This poplar blockboard is an economical and dimensionally sturdy lumber-core plywood with excellent bending characteristics and relatively light weight. It is, in fact, really lightweight: about 9 kg per square metre (with 19 mm thickness). These boards are primarily used in furniture making and interior furnishing.
Poplar wood is an even and only slightly textured wood with a relatively uniform surface. It is soft and can be worked on with all the customary woodworking tools.
Poplar blockboard custom cutting
2 Variants