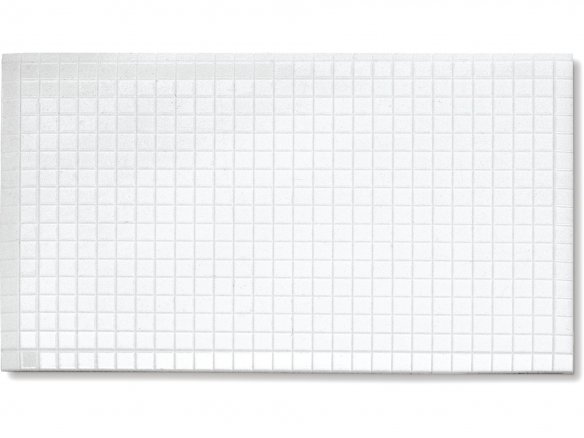 configurated in 5 x 5 mm squares, flexible, impact-resistant, front side with protective film
A sheet of polystyrene is the base material for these mosaic mirror sheets. It is coated by an ultra-thin, clear and streak-free metal layer (metallization) to achieve the mirror effect. On this metal layer another thin and transparent polyester coating has been added, which protects the metal layer and adds depth. The quadratic structure of the sheet is made by putting it on top of a piece of fabric and making cuts in the surface. In this way the sheet gains a great deal of flexibility.
Attributes: The quality of the product on offer corresponds to the German construction material class B2 – normal combustibility - and it is therefore not allowed to be used in public buildings or exhibitions.
Uses: We have found that excellent results can be achieved when working on these sheets with a common sewing machine. We nonetheless advise you to make preliminary tests with your own machine while at the same time exploring the possibility of using a more substantial (Jeans) needle (recommended, if feasible). A seam can only be formed at the interstice between the small squares. Even though the material is very flexible, it can only be folded at the interstices in one direction (towards the back) because of the thickness of the material used for the mirror squares. Please note that you have to remove the protective film first before proceeding with any further work.
If you plan on attaching a mirror sheet onto a smooth, inflexible surface, a good alternative would be our POLYSTYROL MIRROR, SELF-ADHESIVE; instead of fabric backing, this product has a self-adhesive film laminated to the back.
Polystyrene mirror, fabric backing, 2.5 mm squares, white glossy 1.2 x 245 x 490