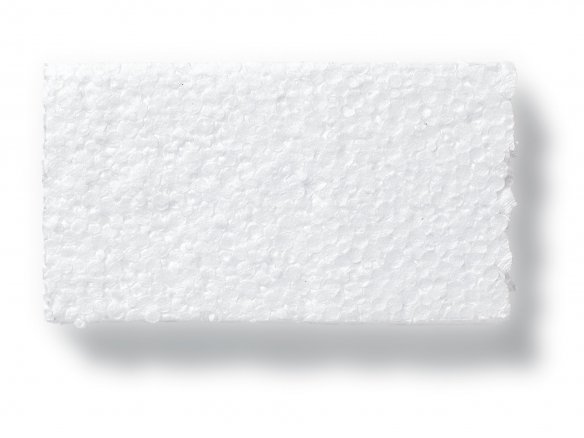 material

Multi-purpose insulation panel made from expanded polystyrene foam
Under the terms of DIN 4108 norm, the polystyrene foam we carry is now called a "multi-purpose insulation panel EPS 040 DEO/WAB (compressive strength 100 kPa)". What this means is that it is an expanded polystyrene foam (EPS) with a thermal conductivity of 0.040 W/m·K for floor insulation without any sound protection requirements (DEO) or for rear ventilated facade insulation (WAB) with normal pressure load qualifications (100 kPa).
This panel conforms to the construction polystyrene foam standards that prevail in the marketplace. Since the adoption of the above-mentioned norms, the volumetric weight is only of subordinate concern as long the relevant values (heat conductivity, etc.) are in compliance. The density of the material can therefore vary in accordance with the thickness.
Application: This medium-fine pored polystyrene foam can be used for a wide variety of purposes besides just construction. In photography it is the cheapest self-supporting lightening (reflecting) device, in architectural model making it is an economical alternative to the PS or polyurethane rigid foams – it should be noted, however, that its cut edges will not be as smooth as those on the rigid foams. In addition, it is also great for creating large size decorations that can be subsequently covered with putty or the like. fillers and putties for use on polystyrene foam can be found in our assortment.
Treatment: The use of a hot wire cutter or a regular cutter is ideal for cutting work – when cutting, the blade should be held flat when going through the material to prevent the polystyrene foam from crumbling. Less delicate work can be done with a rasp or a grinder with good results. A multi-layered model can be put together by simply using pins; for gluing work you should use Tesa all-purpose glue , UHU POR or polystyrene foam glue (for larger area glue work).
When making a polystyrene foam figure you should first carve or cut (handheld STYROFIX cutter) a rough approximation of your shape from the blocks of polystyrene foam that you have glued together for reasons of size and subsequently use Acrystal Prima acrylic resin to coat the form. The resultant surface will be very amenable to sanding and painting.
Polystyrene foam Styropor EPS 040 DEO/WAB, 30.0 x 500 x 1000 mm
Note
Please note that we can only ship large quantities of this article per forwarding agency which means that there are higher shipping and handling costs.