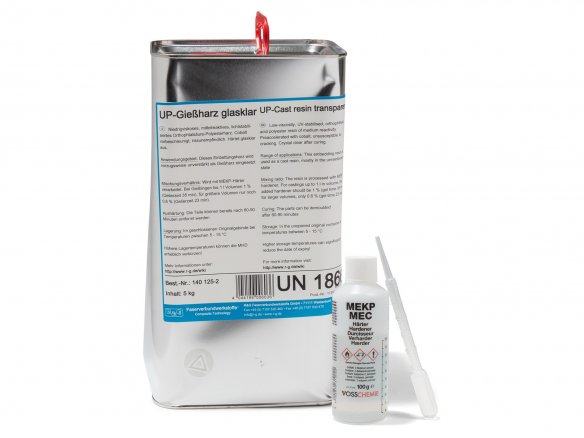 product

2 component casting resin from unsaturated ortophtal acid polyester resin and MEKP hardener

Cured material

colourless and transparent

Density (at room temperature)

approx. 1.22 g/cm³,

Working life

10 - 20 minutes (see chart)

Shelf life with proper storage

3 - 6 months (resin and hardener)
Description
Hazard warnings
GTS and R&G polyester casting resins are medium reactive unsaturated polyester resins that are pre-accelerated with cobalt. Their most distinguishing features are their transparency and their UV resistance. These polyester resins are crystal clear when cured but can also be coloured (dyes for synthetic resins) quite nicely - which accounts for the fact that they are so often used in model making as well in the decoration sector (e.g. for moulding objects).
As is the case with all polyester resins, the mixing ratios between resin and hardener are dependent on the amount being employed. The most accurate way to add the extremely small amount of hardener required as a percentage of volume is to use a pipette or a disposable syringe. Please take note of the following data when working with these resins:
Mixing ratios for polyester casting resin R&G:
| | |
| --- | --- |
| Resin | Hardener |
| 10 - 200 g | 1.5 - 2.0 % |
| 200 - 1000 g | 1.0 % |
| 1 - 10 kg | 0.6 - 0.8 % |

Please note that when more that 2.5% hardener is added to GTS casting resin it will become yellowish. Too much hardener will also lead to very high temperatures which, in turn, will lead to cracking in the material. Amounts of hardener larger than 5% will make the resin soft.
The working time and the de-moulding time are also determined by the amount of hardener used. The following data are based on room temperature.



Data for polyester casting resin R&G (1 kg mixture):
| | | |
| --- | --- | --- |
| Hardener | working time (minutes) | Gel time (minutes) |
| 0.6 % | 20 | 23 |
| 1.0 % | 10 | 35 |

We only offer the polyester casting resin R&G in large quantities because it is so much less expensive in bulk than the GTS resin. On top of that, the R&G casting resin can be used to make as large as a 5 litre block in a single pour without the risk of cracks developing in the material. If the heat that is thereby produced bothers you, layers of between 2 and 3 cm thickness can be poured one after the other as soon as the reaction heat has subsided for each segment. These casting resins should never be worked with in temperatures under 18 °C.
Danger, Styrol >= 29 < 50 %, 2-Butanon-peroxid 25-50%, 4-Hydroxy-4-methyl-pentan-2-on (vgl. Diacetonalkohol) 2,5-10%, Wasserstoffperoxid 1 - 2,5%, Butanon; Ethylmethylketon 1 - 2,5%, Tributylamin 0,1 - 1%, Entzündbare Flüssigkeiten: Entz. Fl. 3, Akute Toxizität: Akut Tox. 4, Ätz-/Reizwirkung auf die Haut: Hautreiz. 2, Schwere Augenschädigung/Augenreizung: Augenreiz. 2, Reproduktionstoxizität: Repr. 2, Spezifische Zielorgan-Toxizität (wiederholte Exposition): STOT wdh. 1, Gewässergefährdend: Aqu. akut 1, Organische Peroxide: Org. Perox. D, Akute Toxizität: Akut Tox. 2, Ätz-/Reizwirkung auf die Haut: Hautätz. 1B, Schwere Augenschädigung/Augenreizung: Augenschäd. 1
Hazard warnings
H226: Flammable liquid and vapour.
H315: Causes skin irritation.
H319: Causes serious eye irritation.
H332: Harmful if inhaled.
H335: May cause respiratory irritation.
H361D: Kann vermutlich das Kind im Mutterleib schädigen.
H372: Causes damage to organs through prolonged or repeated exposure .
H412: Harmful to aquatic life with long lasting effects.
H242: Heating may cause a fire.
H302: Harmful if swallowed.
H314: Causes severe skin burns and eye damage.
Safety instructions
P210: Keep away from heat, hot surfaces, sparks, open flames and other ignition sources. No smoking.
P260: Do not breathe dust / fume / gas / mist / vapours / spray.
P280: Wear protective gloves / protective clothing / eye protection / face protection.
P304+P340: IF INHALED: Remove person to fresh air and keep comfortable for breathing.
P305+P351+P338: IF IN EYES: Rinse cautiously with water for several minutes. Remove contact lenses, if present and easy to do. Continue rinsing.
P308+P313: IF exposed or concerned: Get medical advice / attention.
P310: Immediately call a POISON CENTER / doctor / …
P501: Dispose of contents / container to …
Downloads
Polyester casting resin R&G, crystal clear
2 Variants
Note
Polyester casting resins are inflammable and hazardous to your health and the environment. Please take note of the dangers and the safety information on the package and the information titled "Safety at the Workplace" found under "Casting Resins".

Please note that we can only ship large quantities of this article per forwarding agency which means that there are higher shipping and handling costs.

The product consists of two components (resin and hardener)!