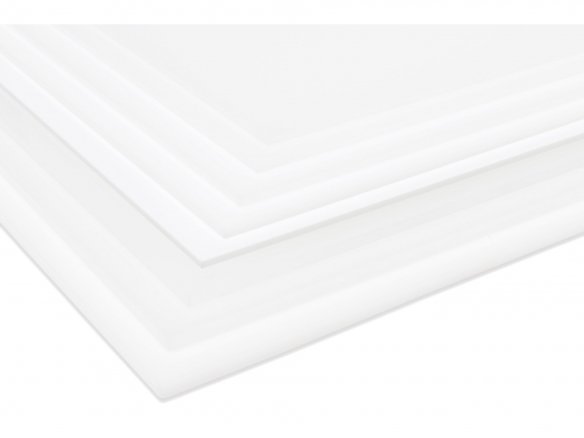 glossy/glossy, both sides with protective film
Custom cutting available. Choose your desired size!
For more information about our custom cutting service, please visit Modulor Services.
The so-called "white types" are acrylic glasses with different light transmission. The type WH02 is primarily used for making light boxes for advertising and in the photographic and film sectors. On account of the large amount of light transmission but low transparency, the illuminant behind the sheet of acrylic glass cannot be seen and the surface shines evenly. In illuminated advertising, coloured SELF-ADHESIVE FILMS are glued to the surface of the acrylic sheet.
| | |
| --- | --- |
| Type | light transmission (reference value) |
| WH17 | 90 % at 3 mm thickness |
| WH10 | 62 % at 3 mm thickness |
| WH02 | 44 % at 3 mm thickness |
| WH73 | 19 % at 3 mm thickness |
| WH01 | 03 % at 3 mm thickness |
Plexiglas GS white (milky) custom cutting
8 Variants
standard sizes
custom cutting