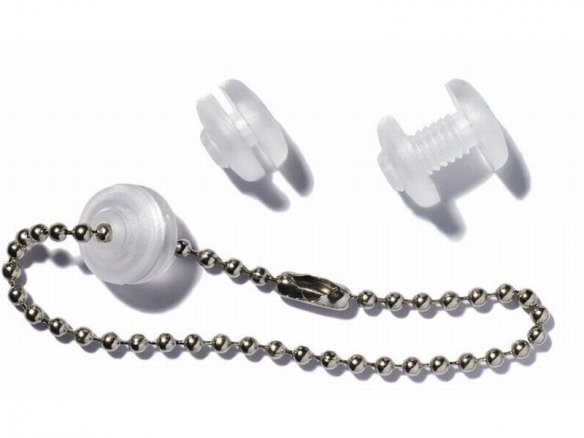 hard plastic, colourless, 2-piece (headed shaft with snap-on threads and bottom head), ø shaft 5.5 mm, ø head 12 mm, the heads have no slots, the shaft has ø 2.4 mm hole in its core, given length is the distance between the heads
These plastic rivets can be used in the same manner as BOOKBINDING SCREWS to bind together stacks of paper or cardboard of different thicknesses. In contrast to book screws, however, the shafts of these rivets are hollow, thus allowing you to run a chain or cord through them (see: BEAD CHAIN, NICKEL-PLATED or POLYAMIDE NYLON FILAMENT) in order to be able, for example, to hang a sample fan. They are also great for reinforcing the holes in documents or canvas cover that need to be hung.
The way to permanently affix a plastic rivet in a hole (hole diameter of a standard hole punch) is to snap the head onto the "outer threads" of the shaft. In doing so, the head will go only so far down the shaft as is possible as determined by the thickness of the stack being bound.
Plastic snap-on rivets, translucent
4 Variants