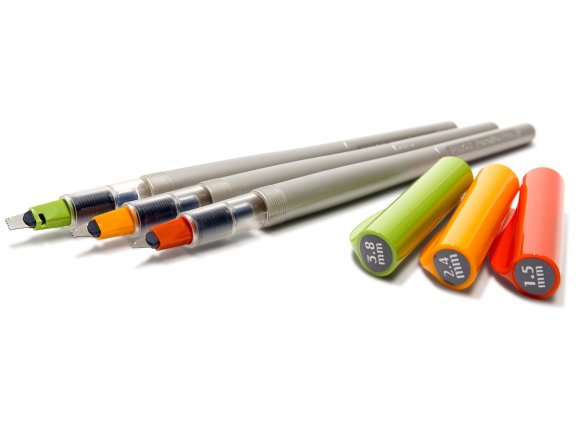 nib thickness: 0,5 / 1.5 mm (red); 0,5 / 2.4 mm (yellow); 0,5 / 3.8 mm (green); 0,5 / 6.0 mm (blue)
Calligraphy is the art of beautiful handwriting ("calli" is Greek for "beautiful" and "graphy" is Greek for "way of writing"). By using the Pilot Parallel Calligraphy pen you can transform words into pictures! The pen has a laser cut stainless steel nib tip that is made up of two small parallel plates between which the ink can flow perfectly. This type of nib produces extremely sharp and even lines; in addition, with the turn of your hand you can make different (thicker) line widths (one pen for both thin and thick lines!). It should also be noted that the Parallel pen allows you to produce lettering with interesting colour gradients and multi-colour effects: this is accomplished by introducing another external coloured ink onto one side of the nib that then will mix with the ink in the pen as you write. If you should happen to run out of the matching cartridges you can also use the Pilot Parallel pen just like a bandzug nib by just dipping it into an ink bottle and writing that way.
Each set contains a fountain pen, cartridges (one each of red and black), a thin plastic plate for cleaning the nib tips and a pen cleaner pipette.
Accessories and Related Products