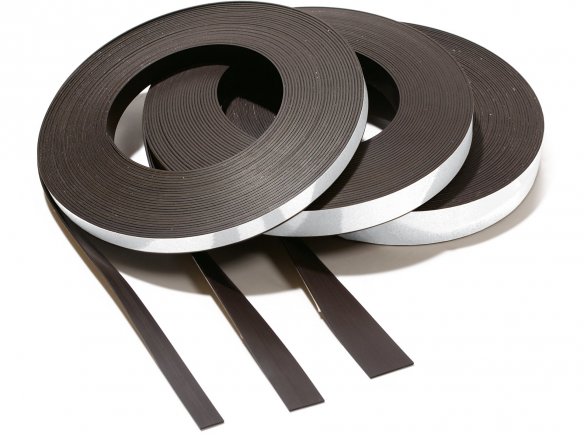 isotropic hard ferrite 4/24p, mixed with flexible plastic (PE) binder, front side with permanent adhesive, reverse side is magnetic, high adhesive strength (0.55 N/cm²), th = 1.0 mm
Practically every material can be made magnetic with self-adhesive magnetic strips. For example, placards or drawings can be equipped with a strip in order to hang them on metal substrates or walls. In addition, they can be used as invisible fasteners for doors or folders. This flexible strip can be quickly and easily cut to the required length with a blade or scissors.
Permaflex 424 magnetic strips, self-adhesive
3 Variants
Note
Minimum order amount for material that comes on rolls: 0.5 running metre

Please note that no exchange is possible in the case of products cut from rolls and pre-cut pieces.