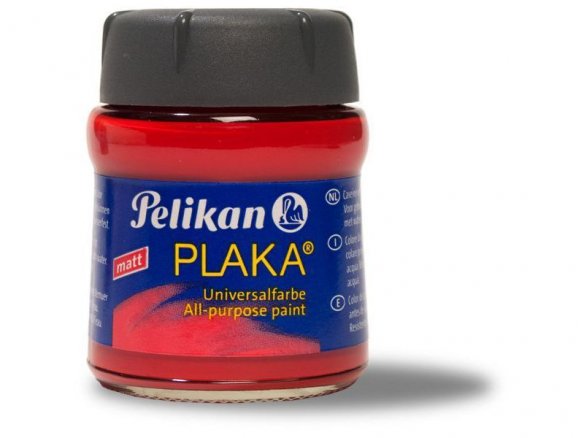 casein emulsions paint, water-based, can be thinned with water, silky matte, smudge-proof, lightfast
The Pelikan Plaka all-purpose paint is a so-called casein emulsion paint. Casein is in fact a cheese product that, after drying, forms a film coat that is practically non-soluble in water.
This all-purpose paint is silky matte, provides good coverage (opaque), can be thinned with water and is lightfast (non-fading). After being applied to a grease-free substrate it will dry to a smudge-proof finish in about twenty minutes. Depending on the coat thickness, it will be dry and waterproof from 12 to 24 hours. It can be applied to practically any substrate including paper, cardboard, glass, stone, wood, fibreboard, acrylic glass or polystyrene foam. With the exception of the metallic paints, the different hues are intermixable with one another.
Pelikan Plaka all-purpose paint
22 Variants