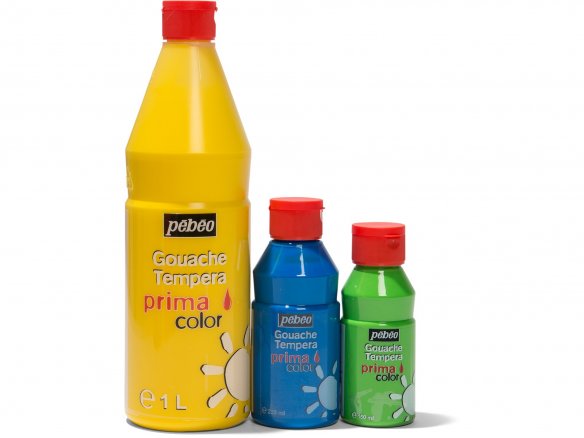 water-based, viscous, great coverage, non-smelling, paints can be mixed with one another, can be use as is or diluted with water, can be made soluble again even after drying, conforms to European Safety Norm EN 71-3 (toy safety), with closeable spray opening
Pebeo Primacolor is a ready-to-use, liquid gouache paint in intense, opaque colour tones that is especially great for our very small artists in kindergarten and grammar school. The soft plastic bottles with spray opening allows the paint to be simply pressed out in a controlled way. Primacolor can be used on different substrates - on thick paper, cardboard and wood just as successfully as on stone, glass or play dough. The odourless paint is still soluble with water even after drying and can be easily washed out of utensils, cloths or from furniture surfaces. A painting good enough for keeping can be permanently protected by applying a FIXATIVE.
There are three chromatically balanced primary colours in the colour assortment that make it very easy to learn the art of mixing colours.
Pebeo children´s Primacolor paint
52 Variants