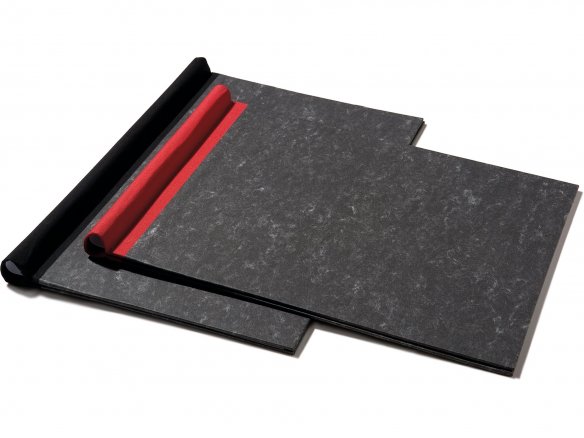 cover

sturdy cardboard cover covered with dark marbled paper

Back

coloured linen spine with integrated spring clamp ø 20 mm

Capacity

18 mm and 170 sheets of 80 g paper

Dimensions

the given dimensions are approximate
This handmade clamp folder made from paper covered cardboard and coloured linen is very often found being used as a menu in restaurants if, for example, the menu must be changed on a daily basis.. The principle of its functioning is very simple: its spine consists of a three-quarter round steel spring profile that is pulled open by the action of opening the folder cover and is thereby ready to clamp down on the inserted paper (1 to 170 sheets of 80 g paper). It is also possible to expand the spring farther (to a maximum of up to 20 mm) but this is not advisable because when filled to such a level the cover is likely to spring open on its own.
Please note that when you clamp a page into the folder´s mechanism, 1 to 2 centimetres of the left margin will no longer be visible.
Paper covered clamp folder
10 Variants