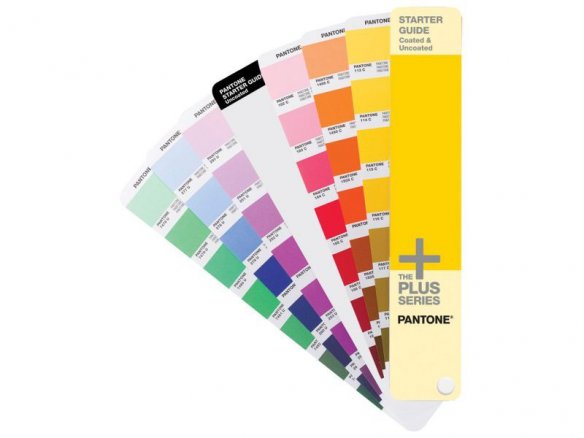 1 fan deck with 543 Pantone colour chip samples, fan deck size is ca. 42 x 235 mm, sample chip size: ca. 20 x 42 (borderless), 7 colours per side, with print colour formulations, printed on glossy coated or, alternatively, uncoated book printing paper
The Pantone Starter Guide contains one colour chip for each of the total of 543 Pantone colours which are printed on two different types of paper (coated and uncoated).
The mixing ratios for the 14 basic Pantone colors are given for each of the samples as well as the Pantone number (metallics also contain the basic metallic hues).
The Starter Guide is a great way to become familiar with the use of Pantone colours and is particularly helpful for specifying and determining printed colours. The Guide contains excerpts from almost every Pantone Plus Series Library: pastels & neon coated and uncoated; metallics coated and Formula Guide solid coated and uncoated.
The colour chips are bleed printed (no margins), which allows easier and more precise comparisons to be made. When using the Pantone Color System you can be sure that your colour can be reproduced at any time.
The Stater Guide has a numerical colour index which supplies the page number so that colours can be quickly and easily found.