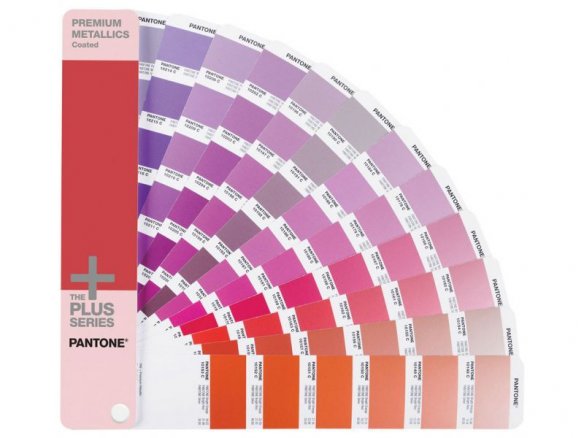 fan deck with examples of 300 Pantone Premium Metallic Colors based on the Pantone Goe system; fan deck format: ca. 42 x 235 mm; size of the coloured area: 20 x 42 mm without a border (bleed printed); 6 colours per side, with ink formulations, printed on glossy coated paper that is of printing industry quality
The Pantone Plus Series added completely new metallic colours to its program because of the increasing demand for dazzling special effect inks. Through the use of novel non-leafing pigments, the inks have greater brilliance and can be easily coated with water-based or UV varnish without any loss of luster or other changes.
The Pantone Plus Premium Metallics fan deck contains 300 chromatically arranged Premium Metallic colours on coated paper. The coloured areas are bleed printed (no border) to assure easy and precise colour comparisons. Print ink formulations are provided for each colour. The fan deck is used as a way to specify and determine metallic colours or to select those that can be typographically reproduced with consistency at any time.
Pantone Premium Metallics Guide