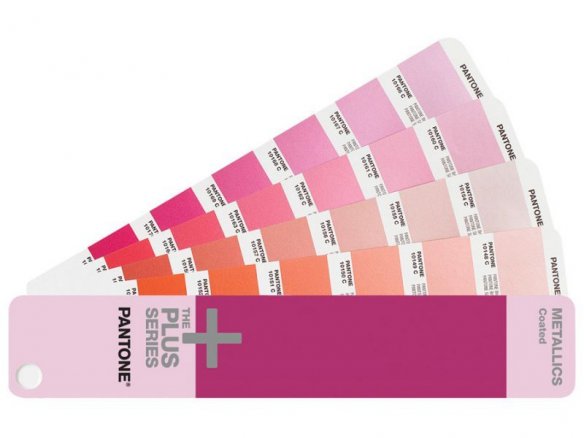 fan deck with examples of 301 metallic colours, fan format: ca. 42 x 235 mm; size of the coloured area: 20 x 42 mm without a border (bleed printed); 6 colours per side, with ink formulations, includes Pantone Lighting Indicator, printed on both glossy coated as well as uncoated paper that is of printing industry quality
The Pantone Metallics Guide contains 301 Pantone metallic colours – printed on coated paper.
The colours are produced by mixing Pantone Spot colours with gold and silver. The print formulas for each colour are provided. The colour swatches are bleed printed (no border) to enable easy and precise colour comparisons. A supplemental page demonstrates the effects of a water-based paint when it is applied to the seven metallic base colours. The fan deck can be used to specify and determine metallic colours or to select those that can be typographically reproduced with consistency at any time.
The registration code on the fan decks can be utilized to download the Pantone Color Management Software free of charge upon registration.