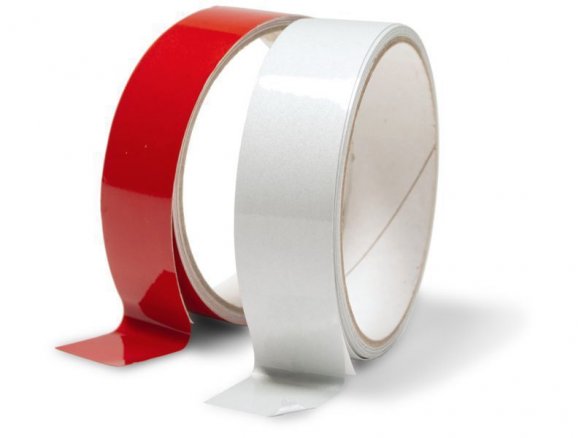 permanent adhesive strength (15 N/25 mm), tearproof, weather resistant, temperature resistant from -56 °C to +82 °C, th = 0.11 mm, alkyd resin surface, permanent polyacrylate adhesive, release liner is 145 g/m² paperboard that is PE coated on both sides, plastic core
The Oralite 5500 Engineer Grade is a weather resistant reflecting film that is primarily used for manufacturing traffic control, guidance, warning and information signs. We have had the film produced for us in a role with a very practical 25 mm width. The surface is retroreflective – which means that light falling on the film will be reflected back in exactly the same direction from whence it came, i.e., it will not be diffused and reflected out in all directions. In this way, the light is reflected in a more narrow angle and consequently appears to be much brighter on the surface of the film.
The special reflecting attributes of this film come about as a result of a reflective aluminium layer together with catadioptric glass beads that are embedded in a transparent layer of plastic material that is positioned above the aluminium layer with a minimal amount of space between them. The multi-layered construction of the film is protected by a cast resin, scratch-resistant surface layer.
In addition to its ability to serve as a warning system, it can also be nicely used for nocturnal decorations and lettering. The red colour is of course easily imagined in its luminescence - the black, however, is very noteworthy as well: it shines with a kind of milky appearance and has a rather anthracite colouring, the result being that it produces a surprising and very special effect.
Processing: This adhesive material can be cleanly cut with a plotter and printed on by means of a screen printing process. Comprehensive instructions for working with this material can be found at the Orafol website: www.orafol.com
The reflecting values of the Oralite 5500 film conform to the relevant national specifications covering reflective materials found in the official regulations: EN 12899-1 (Europe), DIN 67520 und DIN 6171 (Germany), BS 873: Part 6 (Great Britain), NFP 98-520 (France), SN 640878 (Schwitzerland), ASTMD 4956 (USA) und JIS Z 9117 (Japan).
According to the manufacturer, the Oralite 5500 Engineer Grade reflecting film is weather resistant for up to 7 years when in a vertical position in normal Middle European weather conditions. In addition, this film is resistant to salt water, most mineral oils, fat and grease, fuels, aliphatic solvents, weak acids, salts and alkaloids.
Oralite 5500 Engineer Grade reflective film
4 Variants