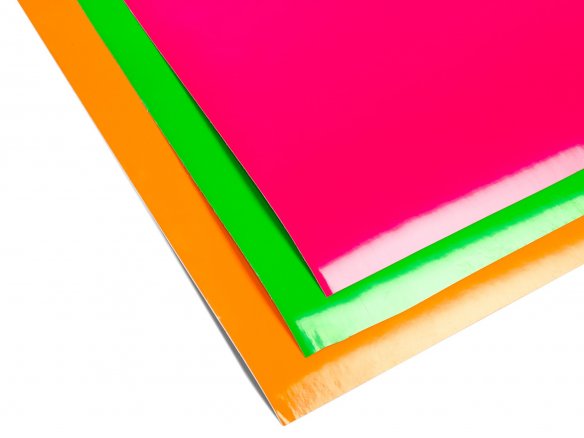 fluorescent, PVC, th = 0.11 mm, permanent and solvent-free acrylic adhesive (adhesive strength 16 N/25 after 24 hours), temperature resistant –40 °C to +105 °C, paper release liner is 137 g/m², inner diameter of roll core is 76 mm
This cast film is noteworthy because of its luminous colour tones and high degree of colour coverage. As a fluorescent film, it is great for creating eye-catching two-dimensional colour arrangements that can serve as a kind of signal at trade shows, for advertising or for signs displaying special offers. It is primarily designed for indoor use – the manufacturer guarantees a service life of one year (colours maintain their brightness!). The manufacturer gives no specifications regarding outdoor use but does recommend it only be used short-term in that case. This film is also available as an adhesive tape in widths of 5, 10 and 20 mm.
Because of its stable flatness, the Oracal 6510 – as is the case with other Oracal films – this film lends itself to being worked on with a plotter cutter. It can be cut manually with a scissors, cutter or artist knife and great results can be achieved with screen-printing as well.
Oracal 6510 coloured adhesive film, neon, glossy, w = 500 mm, neon red (039), RAL 3024
6 Variants
Note
Please note that goods from rolls cannot be exchanged and their minimum order amount is 0.5 running meter.