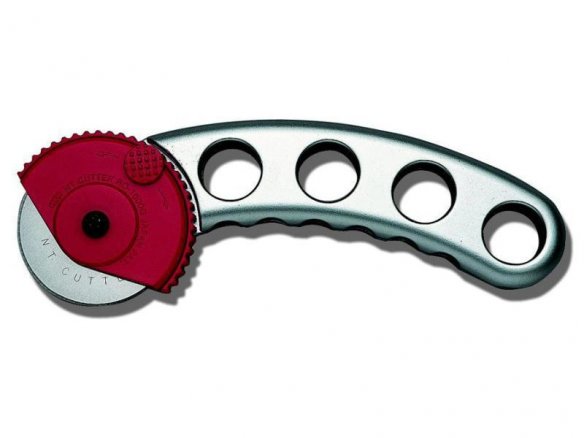 matte silver aluminium handle, rotating blade protector, round blade ø 45 mm
Many people swear by rolling cutters as the best alternative to a much more expensive tailor scissors when it comes to the exact cutting of thin materials – and the NT RO 1000 GP has proven itself to be of excellent quality after undergoing extensive comparitive tests by us. A rolling cutter is not designed for cutting thicker materails but rather for elastic materials (like, for example, latex), thin cloth and thin paper (think: transparent paper or Japanese paper) all of which tend to distort when being cut or, by virtue of their thinness, to rip. A very clean cut of such materials can be achieved by using a rolling cutter because as the blade rolls it tends to pull a lot less on the material than a standard fixed blade. Precise curved cuts are also very possible if the desired radii are not too narrow.
The rolling cutter can be used free-hand but for exactly straight lines a CUTTING RULER should be employed to guide the blade as it is pushed or pulled across the material. Also important is the use of an adequate CUTTING MAT for two reasons: as an aid to exactness and as an effective measure to lengthen the service of the somewhat expensive but thereby high-quality blade.
The aluminium handle is very sturdy and handy to use; the hemispherical protective cap can be easily rotated out of the way. The NT RO 1000 GP is designed for left-handed as well as right-handed users.
NT rolling cutter RO 1000 GP
2 Variants