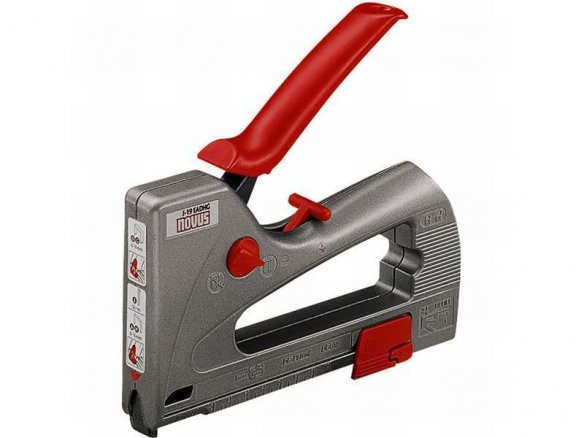 diecast zinc housing (especially low rebound), DB patent DBGm, weight is approx. 1000 g, with rebound function, impact force adjustment (for use with hard or soft woods), distance holder, locking mechanism on the handle, belt hook, staple window, safety releasing device
The sturdy professional tacker J-19 EADHG has a long-lasting cast zinc housing which assures a low recoil level and a non-fatiguing work action. Its long narrow nozzle enables it to even function in hard to reach places like, for example, corners and grooves. The clear staples window allows you to quickly and easily check on your "ammunition" and the patented safety release device ensures that the tacker can only be opened or refilled when it is safe. The locking mechanism in the handle makes sure that the handle is locked in position when not being used thereby preventing the possibility that a staple can be accidentally fired. If during your work both hands must be used, the tacker can simply be hung on your belt by means of the hook provided.
In contrast to the other hand tackers that we have on offer, this tacker will also deliver brad nails. In addition, it has many other functions which make many jobs that much easier to perform: the impact force adjuster allows you to set the impact force according to the hardness of the material you are working on. When working on hard substrates (e.g. hardwood), the tacker can be set to the multi-stroke function if the staple has not been driven completely home on the first impact. The distance holder enables you to place your staples in absolutely parallel rows.
Novus stapler, J-19 EADHG fine wire & flat wire staples(6-14mm), nails(16mm)