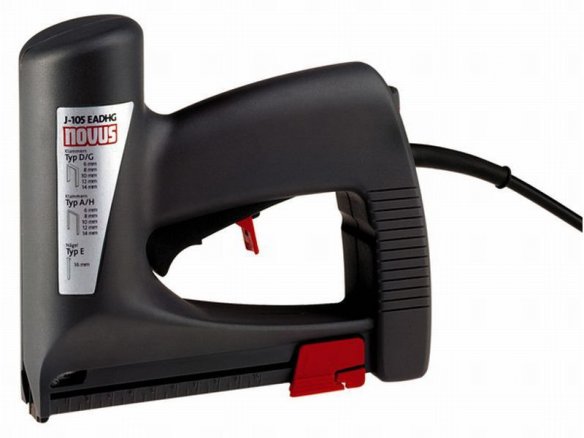 high quality plastic housing, weight is approx. 1160 g, cord is over 3 meters, with electronic impact force adjustment and distance holder, staple window, safety release device, bottom loading system
The electric tacker J-105 EADHG is a robust professional tacker for universal use in interior design and decoration which also delivers brad nails.
As with the J-19 version, its long narrow nozzle enables it to even function in hard to reach places like, for example, corners and grooves. The staple inspection window allows you to quickly check on your supply of staples. A patented security locking system prevents any accidental shooting of staples during reloading. The impact force of the tacker can be adjusted to suit the hardness of the material being worked on by means of a continuously adjustable electronic power adjuster. The distance holder enables you to place your staples in absolutely parallel rows.
Novus electric stapler, J-105 EADHG, fine wire & flat wire staples(6-14mm), nails(16mm)