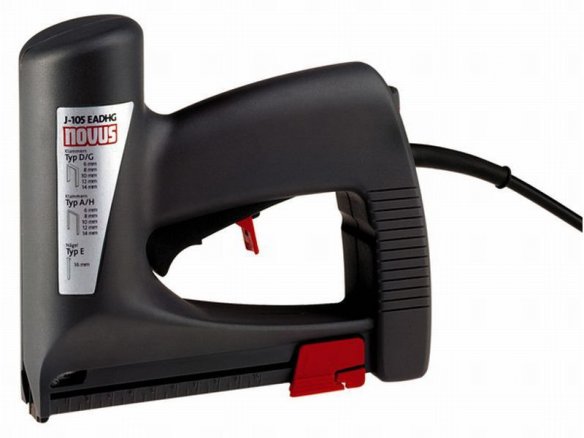 high quality plastic housing, weight is approx. 1160 g, cord is over 3 meters, with electronic impact force adjustment and distance holder, staple window, safety release device, bottom loading system
The electric tacker J-105 EADHG is a robust professional tacker for universal use in interior design and decoration which also delivers brad nails.
As with the J-19 version, its long narrow nozzle enables it to even function in hard to reach places like, for example, corners and grooves. The staple inspection window allows you to quickly check on your supply of staples. A patented security locking system prevents any accidental shooting of staples during reloading. The impact force of the tacker can be adjusted to suit the hardness of the material being worked on by means of a continuously adjustable electronic power adjuster. The distance holder enables you to place your staples in absolutely parallel rows.
Tackers (staple guns) are very versatile tools when it comes to affixing materials like, for example, films, wire mesh, textiles, carpets, paper and cardboard as well as wood and derived timber products to materials that can accept nails.
There are two basic types of tackers: hand tackers in which the staples are driven manually by a spring and electric tackers and pneumatic tackers in which the staples are automatically driven into place. At this time our product line is limited to hand and electric tackers.
One of the most important considerations when buying a tacker is its weight. Working with the lighter version is less effort but it should be noted that it is the weight of the device which absorbs the recoil energy and therefore relieves the pressure to hand and wrist. In addition, heavier tackers, in the case of horizontal application, require a lot less impact to work.
Whether you decide to go with an electric tacker with a plastic housing or a hand tacker with a metal housing should primarily depend on how quickly and how often you will be using this tool. If time is an important consideration we recommend an electric tacker but if it is not to be used so often a hand tacker is good enough.
Last but not least, the type of staple to be used should be taken into account in your choice of tacker. We have on offer various tackers which will not work with all the different types of staples. Please keep this in mind when buying your tool.