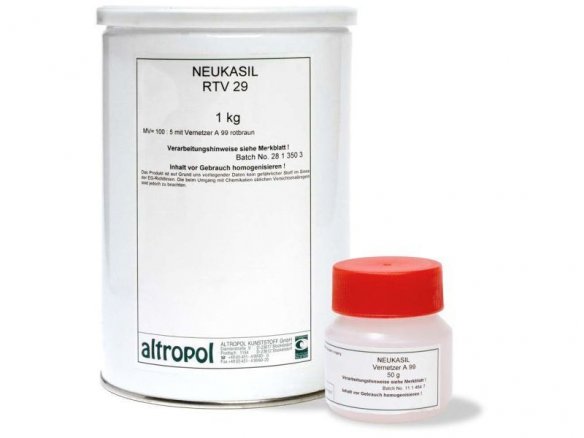 addition-crosslinked precision silicone for moulds, very soft (app. 30 Sh-00), highly elastic, high mechanical stability, very low viscosity (good pourability), when cured the material is opaque white, mixing ratio of A and B components is 100:5, pot life is about 4 hours, demoulding time app. 48 hours, shelf-life with proper storage is 12 months minimum (components A and B)
Neukasil RTV 29 is a silicone rubber that cures at room temperature and has great pourability. It is great for making extremely elastic, gel-like moulds in which objects can be made by employing just about all pourable products. In addition, RTV 29 can also serve as an electrical insulation material, as a printing pad or as casting material for making gel-like objects. In specialized workshops it is also used for making orthopedic products – for padding in inserts, shoes or horse saddles.
Electric properties:
• Specific resistance 1015 Ωcm
• Dielectric strength 22 KV/mm
• Permittivity (dielectric number) (DIN 53483) 3.0 εr
Please also note the long pot life and long demouding time of this silicone. At a room temperature of between 20 and 25 °C, complete curing will take at least 48 hours. It should be noted that vulcanization is temperature dependent and can definitely be accellerated by the addition of heat. This silicone cannot be configured by means of thixotropic agents but by adding the appropriate agent it can be made somewhat thicker.
This silicone is food safe, which means that it can be used for making moulds meant to be filled with chocolate, marzipan and the like. When used for this purpose it should be noted that the finished mould should be tempered for 2 to 3 hours at a temperature between 150 and 170 °C after being removed from the master pattern and before first being filled with the food substance so as to be sure that any ingredients on the surface that may not have completely vulcanized will be dissolved.
Neukasil RTV 29
4 Variants
Note
The product consists of two components (polymer and curative)!