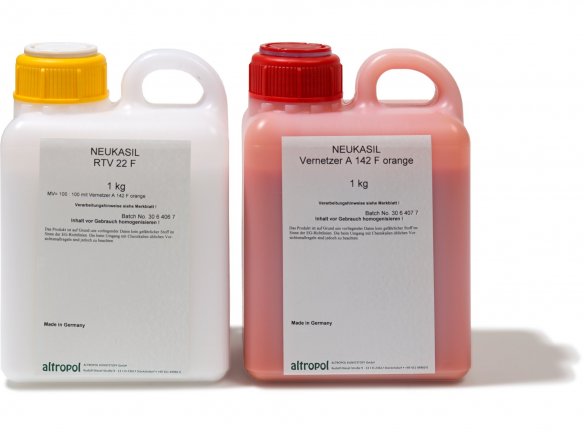 Additional precision casting silicone
foodsafe
highly elastic
high mechanical durability
low viscosity (pourable)
Shore hardness

soft, ca. Sh-A 22

Colour

beige-red and opaque when cured

Mixing ration A to B component

1:1

Working life

ca. 5 minutes

Demoulding time

ca. 30 minutes

Shelf life

minimum 12 months when properly stored
Neukasil RTF 22 F is especially well suited as a mold construction material when making molds with moderate undercuts. Because it has low viscosity it is very easy to remove the air from the mixture - which means no vacuum is necessary! - and it pours easily as well. RTV 22 is comparatively soft and, when making larger moulds, care should be taken that the thickness of the walls is sufficient in terms of strength because otherwise the mould will not hold its shape and the precision of your reproduction will suffer as well.
The silicone is food-safe, which means that it can be use to make moulds for chocolate, marzipan and the like! When thus used, it should be noted that after removing your original model from the mould but before pouring edible substances into it the mould must be tempered in an oven for at least 2 - 3 hours at 150-170 °C in order to be sure that your surface will be freed from any remaining constituents that may not have completely vulcanized.
Neukasil RTV 22 F, B-comp. (crosslinker A142 F, ORANGE) 1,0 kg, PE-c.
Accessories and Related Products