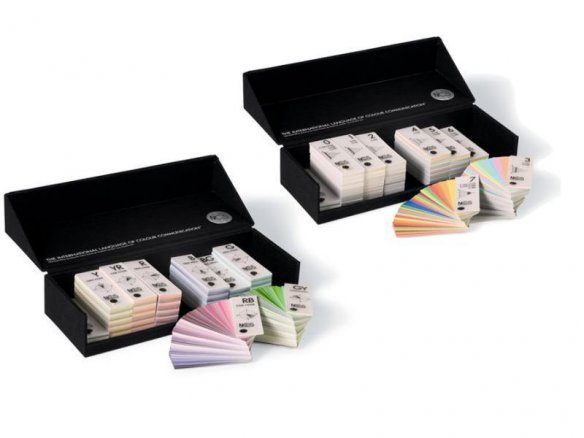 individual blocks (fan decks) with individual colour samples of all 1950 NCS colours that conveniently fan out for viewing; sample size is 35 x 104 mm, 1 colour per page, includes a colour inspection mask with white, grey and black background, comes in linen covered box with hinged lid, ca. 70 x 125 x 345 mm (h x w x l)
The NCS Block consists of 9 handy colour fan decks covering all 1,950 NCS colours. Each colour sample can be fanned out in order to be able to make comparisons of different colour combinations. In addition, the NDS Block is an outstanding aid in gaining an overview of, and identifying colours of different surfaces because a sample can be swivelled out separately and laid directly on the surface being considered. In addition, the colour investigation mask enables you to evaluate a colour vis-a-vis a black, grey or white background.
The block arranged according to colour nuances contains one fan deck for colours having a 10% proportion of blackness, one deck for colours having a 20% proportion of blackness, and so on. Each fan deck contains all the colour groups (yellow, red, blue, green) with the same proportion of black, which provides you with an easy way to try out different suitable colour combinations. In this way, the blocks assorted by nuanced coloures is the right choice for designers that work with patterns and contrasts. 
The block assorted according to hues contains one fan deck for all yellow tones, one fan deck for all orange tones, red tones - you get the picture! The fan deck assorted by hues is better suited for taking stock of available colours than the nuanced assortment. If, for example, a colour found on the wall of a house has a reddish hue it is much easier to match that colour with the fan deck containing all the different variations of red, including differnt gradations and brightnesses. 
NCS Block 1950 Original Colour fan decks
2 Variants