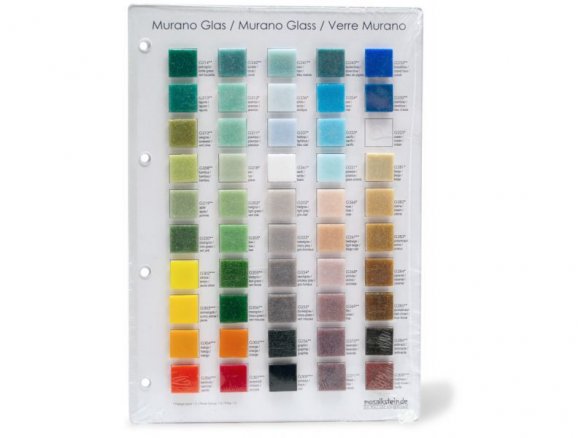 20 x 20 x 4 mm, frost-resistant, insensitive to temperature swings, colourfast, tear-proof, PG = price group (see colour chart), acid-resistant and alkali-proof
The reason that the island Murano became so famous for glass production is that the Republic of Venice issued a decree in 1291 proclaiming that all glass makers must practice their somewhat dangerous, open fire craft outside the city limits. Throughout the centuries, Venetian glass was a treasured luxury item and the secrets of its production were so carefully guarded that glass makers were forbidden to leave the island under threat of death.
Contemporary Murano is still famous for glass of the highest quality in terms of sturdiness and purity of structure. Today, the production of Murano glass mosaic tiles combines that centuries old handmade artistry with the most modern production techniques.
In earlier times, glass mosaic tiles were made by stretching out a glass paste into a kind of pancake shape which was then broken off into pieces after the paste had cooled down. This method is still used today and the pieces that result have a beauty all their own because of the irregularities of the surfaces and colours. These pieces are not, however, really suitable for floor mosaics because of their unevenness and their sharp edges. The glass mosaic tiles produced today by industrial methods are completely uniform in size and shape and have a smooth surface, attributes that destined them to be used for floor mosaics and for those covering large areas.
Our Murano mosaic glass consists of extremely high quality glass tiles which can also be used for construction purposes in the same manner as the well known Bisazza tiles used very often in bathrooms. The tiles are abrasion resistant, colourfast and frost resistant as well as unaffected by temperature swings. When used in combination with the proper glues, the Murano mosaic tiles can also be used in outdoor areas.
In terms of workmanship, the Murano glass mosaic tiles are in no way similar to the cheap versions that come from the Far East which readily break off into shards when worked with. Murano glass can be easily and cleanly cut to shape with a MOSAIC PLYERS – you should in the interests of safety, however, always wear protective eyeware in the process. In the section "Mosaic tiles and accessories" (left side of website under "Handicrafts, Floral Crafts" ) you will find a description of how to either directly or indirectly glue the tiles into place (click "General Information").
Murano glass mosaic tiles, unicoloured
7 Variants
Note
We only have the colours shown here in stock.

All the other colours that can be seen in the sample chart can be delivered within 3 to 4 weeks but only in the 0.6 kg sized packaging unit. Please don't hesitate to ask us about them.

Please note that the colour tones of the Murano glass mosaic tiles can vary somewhat.