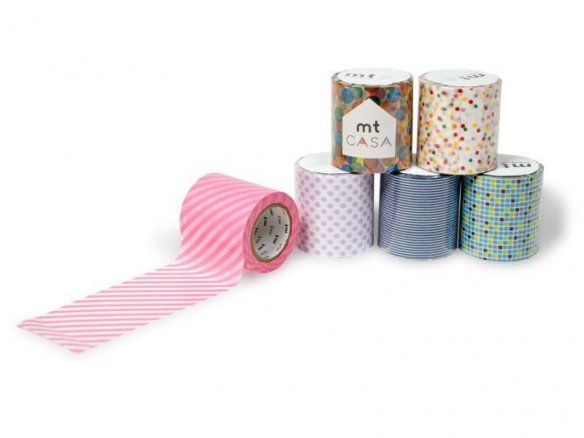 every roll is 10 meters, semi-gloss, th = 0.05 mm, acid-free, solvent-free acrylate adhesive, removable without traces, roll core diameter is 30 mm, rolls come packed in film
Washi tapes are slowly taking over the world: although the small widths of these rice paper tapes was designed for small-scale decoration purposes, you can still use the tapes with wider widths for configuring larger areas and rooms – with lettering, wall borders, long-running stripes, etc. In addition to the beauty of the tapes, their functionality also plays an important roll….eh, role! They provide you with the flexibility to do any rearranging you might desire because, despite their excellent adhesion to practically any surface, they can be removed without a trace. Check out the video!
Tape Art @ DesignSchenken - Luzern 2012 from Michi Gerber on Vimeo.
mt Casa masking tape, patterned Washi adhes. tape
3 Variants