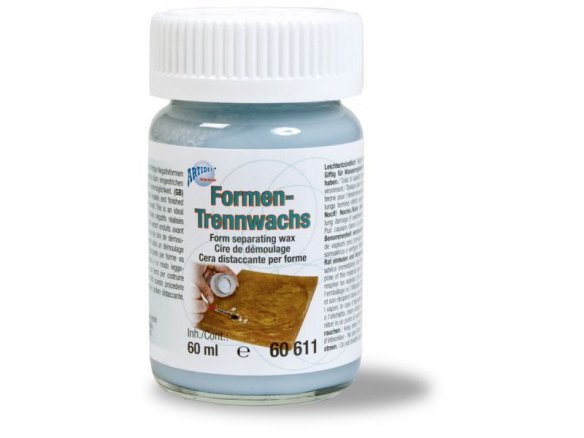 wax dispersion with paste consistency, silicone-free, halogen-free, colourless when dried, ready-to-use for application with brush or rag, flash-off time: 15-20 minutes, polishes well, uses 50 – 100 g per sq. metre
Description
Hazard warnings
This release wax is offered as an alternative to the large sized industrial containers in response to requests for smaller and thereby less expensive amounts by first-time experimenters or people whose project only requires a small amount of release agent.
To use this pasty, creamy mould release wax you simply apply it to the master form before the casting process or to the finished mould before you begin your reproduction work. It can be used on all solvent resistant surfaces but is mainly the preferred choice when working with open pored, rough surfaces. Because you seldom know how a particular surface will react to certain ingredients (which you probably also aren't familiar with!), in cases where the master form you are working with is valuable – in cases of general doubt – you should always make a preliminary test in order to prevent causing discolouration, cracks or other types of damage to your master.
You can use a rag or a brush to apply the wax. After the flash-off time has elapsed, the wax can be polished smooth with a cloth in order to achieve the optimal surface for your moulding work. Multiple applications of the wax are advisable in most cases (see "Information about Release Agents" for more on this topic).
Danger, Kohlenwasserstoffe, C6-7, n-Alkane, iso-Alkane, zyklische Verbindungen, < 5% n-Hexan = 30 < 45 %, Naphta (Erdöl), hydrodesulfuriert, schwer = 18 < 24 %, 2-Propanol = 1,5 < 3 %, Cyclohexan = 1,5 < 3 %, n-Hexan = < 1,5 %, (VOC-Gehalt (EU) = 68 % organische Lösungsmittel), Flam. Liq. 2, Skin Irrit. 2, Asp. Tox. 1, STOT SE 3, STOT RE 1, Aquatic Chronic 2
Hazard warnings
EUH066: Repeated exposure may cause skin dryness or cracking.
H225: Highly flammable liquid and vapour.
H304: May be fatal if swallowed and enters airways.
H315: Causes skin irritation.
H336: May cause drowsiness or dizziness.
H372: Causes damage to organs through prolonged or repeated exposure .
H411: Toxic to aquatic life with long lasting effects.
Safety instructions
P101: If medical advice is needed, have product container or label at hand.
P102: Keep out of reach of children.
P210: Keep away from heat, hot surfaces, sparks, open flames and other ignition sources. No smoking.
P301+P310: IF SWALLOWED: Immediately call a POISON CENTER / doctor / ….
P303+P361+P353: IF ON SKIN (or hair): Take off immediately all contaminated clothing. Rinse skin with water [or shower].
P405: Store locked up.
P501: Dispose of contents / container to …
Mould release wax, paste-like, 60 ml in glass bottle