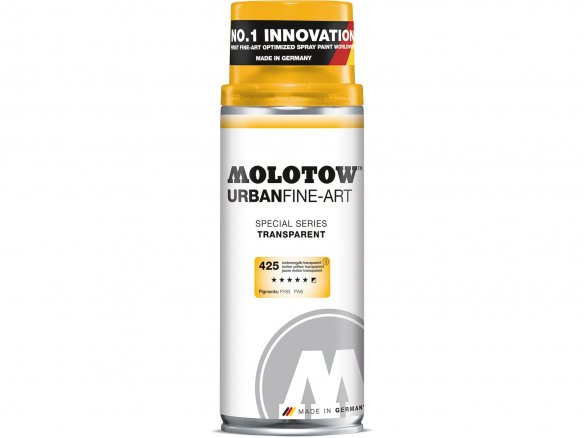 acrylic-based paint, glossy (degree of gloss depends on the substrate), zero coverage (transparent), smudge-proof, weather resistant, UV resistant, hazard warning: Xi = irritant, F+ = highly flammable
This Urban Fine-Art paint is for use on glass and other translucent surfaces. The colours have a milky, diaphanous quality even though Molotow calls them transparent. At Modulor we call an effect whereby light passes through but cannot be actually seen through "translucent". These "transparent" spray paints are therefor an alternative to the translucent adhesive films made by Orafol, to coloured PVC films or coloured transparent/translucent acrylic glass. The intensity of the transparency or translucence, or that of the chosen colour, depends on the number of coats that are applied. These spray paints can be used both indoors and outdoors.
The best results are produced by applying thin coats at intervals of five minutes. A thin application is generally dust-dry in about five minutes depending on the thickness and is completely dry in a few hours, whereby it is then weather resistant. After use, the can should be turned upside-down and sprayed for about three seconds in order to clear the valve so it won´t be clogged when dried out. 
Molotow Urban Fine-Art, transparent, coloured
5 Variants