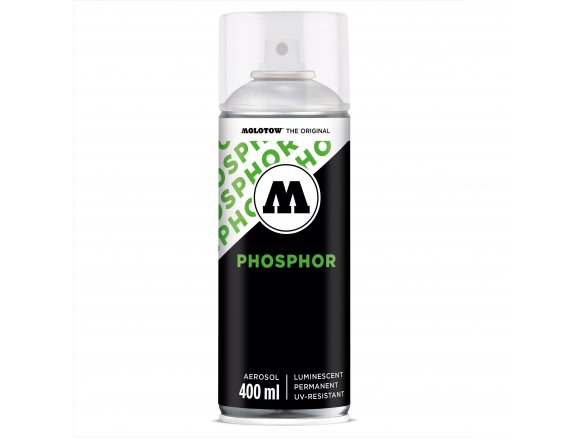 special effect acrylic paint, with light-storing pigments, good coverage (opaque), smudge-resistant, weather resistant, UV-resistant, hazard warning: Xi = irritant, F+ =highly flammable
Phosphorescent paint stores light and emits it again in the dark; put another way, this paint glows in the dark in a biliously radiant green colour. This phosphorescent paint is used to make things like lightswitches, fixtures, stairs, emergency exits or dangerous edges highly visible in the dark - but also to paint a shining star over childrens´ beds.
On the other hand, the transient glow can be used for artwork on a canvas or - well, we hesitate to steal anyone´s thunder with more suggestions!
Whatever! Depending on the preceeding amount of direct light it has been exposed to, Urban Fine-Art Phosphor(escent) will last from one to three hours in the dark, whereby it will glow weakly for a couple of hours more.
The fine spray will be dust-dry in about five minutes (depending on the thickness of the coat, of course) and completely dry in a few hours. When thoroughly dry the paint is weather resistant. After use, the can should be turned upside down and sprayed for about three seconds in order to evaculate any paint in the nozzle and prevent it drying the opening closed.
Please note: for this paint, the spray head cannot be exchanged.
Molotow Urban Fine-Art, Phosphor(escent) 400 ml, phosphorescent green (424)