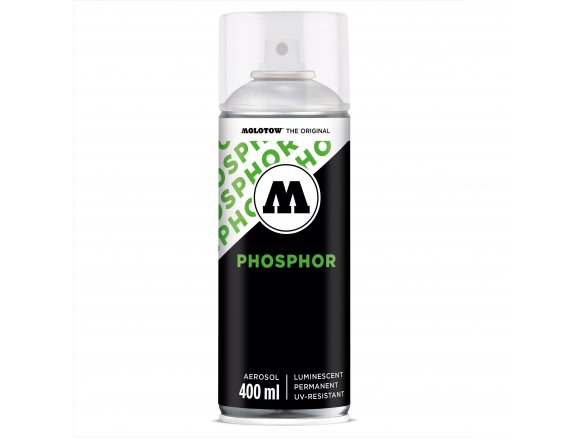 special effect acrylic paint, with light-storing pigments, good coverage (opaque), smudge-resistant, weather resistant, UV-resistant
Description
Hazard warnings
Phosphorescent paint stores light and emits it again in the dark; put another way, this paint glows in the dark in a biliously radiant green colour. This phosphorescent paint is used to make things like lightswitches, fixtures, stairs, emergency exits or dangerous edges highly visible in the dark - but also to paint a shining star over childrens´ beds.
On the other hand, the transient glow can be used for artwork on a canvas or - well, we hesitate to steal anyone´s thunder with more suggestions!
Whatever! Depending on the preceeding amount of direct light it has been exposed to, Urban Fine-Art Phosphor(escent) will last from one to three hours in the dark, whereby it will glow weakly for a couple of hours more.
The fine spray will be dust-dry in about five minutes (depending on the thickness of the coat, of course) and completely dry in a few hours. When thoroughly dry the paint is weather resistant. After use, the can should be turned upside down and sprayed for about three seconds in order to evaculate any paint in the nozzle and prevent it drying the opening closed.
Please note: for this paint, the spray head cannot be exchanged.
Danger, Kohlenwasserstoffe, C3-C4 (Propan - Butan -Isobutan) = > 30 - < 40 %, Ethylacetat = > 20 - < 30 %, Zinc Sulphide Copper Doped = > 10 - < 20 %, n-Butylacetat = > 5 - < 10 %, Aceton = > 5 - < 10 %, 2-Methoxy-1-methylethylacetat = > 0,2 - < 1 %, Flam. Aerosol 1, Skin Irrit. 2, Eye Irrit. 2, STOT SE 3
Hazard warnings
H222+H229: Extrem entzündbares Aerosol. Behälter steht unter Druck: kann bei Erwärmung bersten.
H315: Causes skin irritation.
H319: Causes serious eye irritation.
H335: May cause respiratory irritation.
H336: May cause drowsiness or dizziness.
Safety instructions
P101: If medical advice is needed, have product container or label at hand.
P102: Keep out of reach of children.
P210: Keep away from heat, hot surfaces, sparks, open flames and other ignition sources. No smoking.
P211: Do not spray on an open flame or other ignition source.
P251: Do not pierce or burn, aven after use.
P260: Do not breathe dust / fume / gas / mist / vapours / spray.
P271: Use only outdoors or in a well-ventilated area.
P302+P352: IF ON SKIN: Wash with plenty of water / …
P304+P340: IF INHALED: Remove person to fresh air and keep comfortable for breathing.
P305+P351+P338: IF IN EYES: Rinse cautiously with water for several minutes. Remove contact lenses, if present and easy to do. Continue rinsing.
P312: Call a POISON CENTER / doctor / … if you feel unwell.
P321: Specific treatment (see … on this label).
P332+P313: If skin irritation occurs: Get medical advice / attention.
P337+P313: If eye irritation persists: Get medical advice / attention.
P362+P364: Take off contaminated clothing and wash it before reuse.
P410+P412: Protect from sunlight. Do not expose to temperatures exceeding 50°C / 122°F.
P501: Dispose of contents / container to …
Molotow Urban Fine-Art, Phosphor(escent), 400 ml, phosphorescent green (424)