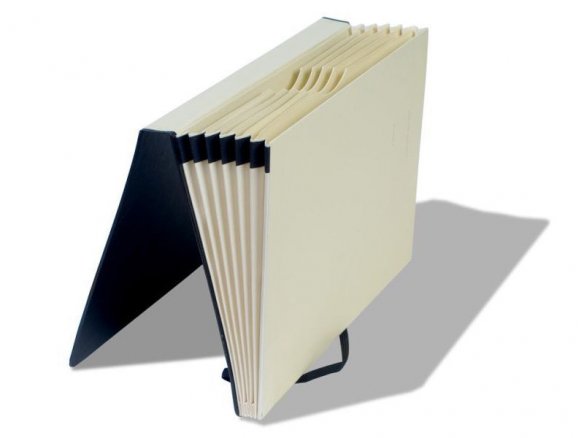 6 cloth reinforced pockets made of white, FSC certified paperboard with finger cut-outs, hard bound cover consisting of cardboard covered with black Moleskine paper, black elastic fastener
These sectioned folders provide space for all of your documents, photos, drawings, collages, drafts, notes, collected newspaper clippings, souvenirs and assorted treasures. The 6 cardboard pockets can hold a great deal and help immensely with your organization, presentation and/or transportation needs.
Please note: Upon inquiry, Moleskine books can be customized to your specifications (embossed, printed, etc.). Further information can be found under the heading YOUR LOGO ON MODULOR PRODUCTS.
Moleskine sectioned folder portfolio, 335 x 460, for A3, 6 pockets