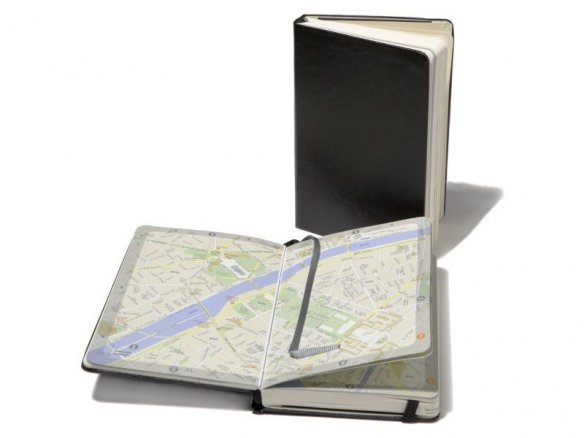 matte, cream-white paper approx. 75 g/m², thread stitch binding, 3 bookmark ribbons, hard cardboard cover covered in black Moleskine paper, flat rubber cord fastener, outline map and detailed map of the city, street directory, outline map of public transportation, up to 76 empty pages, 32-sheet tear-off block, 12 plastic coated indexes, 12 transparent adhesive labels, cardboard insert pocket
The whole city in one book - the handy Moleskine City Notebook is a special tourist guide which supplies all the basic information about the respective city while at the same time allowing space for your own personal impressions and notations. The perfect gift for someone about to embark on a trip to a city but also a nice idea for city residents themselves because they can keep track of good restaurants, bars and interesting nearby destinations so that you will be able to provide your next visitor with a unique city guide including your own personal recommendations.
Each notebook contains an outline map, a detailed street map and a map depicting all public transportation that can be folded out. Particularly practical are the transparent adhesive labels (80 x 130 mm) which can be pressed on to the map pages in order to keep a record - also using a pencil - of paths taken or special areas visited. Up to 76 blank pages are available for recording memories and the archive section is ready for the recording of the best places to dine, drink and shop. Six of the plactic coated indexes are already titled but the other six, by using the stickers supplied, can be labelled as you like. In addition, each book contains 32 small perforated sheets which can be ripped out for addresses or telephone numbers and three different coloured bookmarks as well. As with all Moleskine books, it can be fastened closed with a sturdy rubber cord.
Please note: upon inquiry, Moleskine books can be customized to your specifications (embossed, printed, etc.). Further information can be found under the heading YOUR LOGO ON MODULOR PRODUCTS.
Moleskine City Notebook, 90 x 140, app. A6, 114 sheets, Berlin